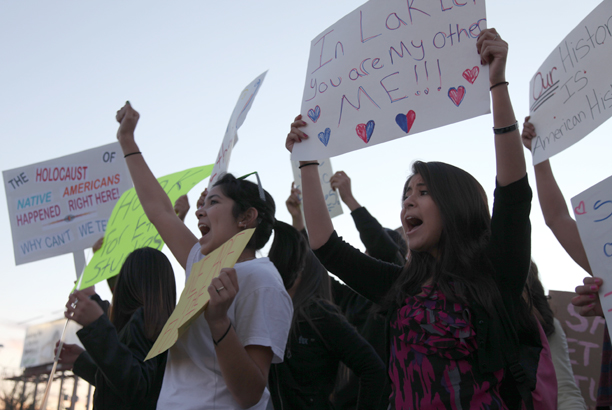 TUSD high school students protest in support of Mexican American Studies in 2012.

Fernanda Echavarri
The Arizona law that prohibits school districts from teaching classes, like the Mexican American Studies classes taught at Tucson Unified School District, says schools can't teach courses designed "primarily for pupils of a particular ethnic group."
State officials say "technically" there are many classes throughout the state violating the law but only the Mexican American Studies classes at TUSD have received complaints.
Tom Horne, Arizona's attorney general, crafted this law when he was the state's school superintendent. He says classes in various African American Studies programs and Pan-Asian Studies programs violate this law.
"Technically they're in violation because we think those courses are designed for students of a particular ethnic group, but you can see that even the overwhelming amount of evidence we have against the Mexican American Studies program, still we have fights in court about it," Horne says. "We have evidence that the course was presented in a racist manner and violated the other prohibitions pushing ethnic solidarity versus treatment of kids as individuals."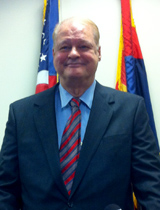 Arizona Attorney General Tom Horne (PHOTO: Fernanda Echavarri)
The law says classes in a school district or charter school in the state can't teach classes that "promote the overthrow of the United States Government; promote resentment toward a race or class of people; advocate ethnic solidarity instead of the treatment of pupils as individuals; or are designed primarily for pupils of a particular ethnic group."
The law states that courses designed for Native American students are required to comply with federal law and are excluded from the state law.
Raul Aguirre, chair of the Mexican American Studies Community Advisory Group, says the law is unconstitutional because it targets only one group.
"Our point has always been that this has been a political and personal vendetta against Mexican American Studies and the Mexican American community," Aguirre says.
TUSD's governing board and the district's superintendent John Pedicone have said they are working with members of the Mexican American Studies Department at the University of Arizona to put together an ethnic studies course which will cover many ethnicities and include Mexican American history.
In a recent Fox News Latino story, John Huppenthal, Arizona's superintendent of schools, said the "toxicity" in TUSD's classes started with UA's involvement in the curriculum.
Faculty from UA's Mexican American Studies Department and the dean of social and behavioral sciences declined to comment for this story.
Arizona Public Media contacted Huppenthal's office multiple times in the last week, but the superintendent was unavailable for an interview, according to spokesman Andrew LeFevre, who spoke on behalf of Huppenthal.
LeFevre says Huppenthal is concerned with the "very close ties, almost unhealthy links" between UA's program and TUSD's classes. His concern was also about age-appropriate information.
"Obviously students at a college level in their 20 to 23-year-old age range have a much different capacity to think about issues in a critical nature, versus students at the high school or junior high level," LeFevre says.
Huppenthal is not currently seeking action against the Mexican American Studies Program at UA but as a member of the Arizona Board of Regents could ask to review the program's curriculum, Le Fevre says.
Aguirre says that by questioning higher education, Huppenthal is not taking age into consideration.
"So what is age-appropriate? University students can't be critical thinkers either?" Aguirre says.
On Jan. 5, Huppenthal ruled the Mexican American Studies classes at TUSD were in violation of state law and if the district didn't shut them down immediately, the state would withhold up to $15 million in funds for the rest of the academic year. Five days later the district's governing board voted 4 to 1 to shut them down.
The classes had been taught at TUSD for years and Horne says it wasn't until a visit from Latino activist Dolores Huerta in 2006 that he saw them as a problem. Huerta told a group of Tucson Magnet High School students at an assembly that "Republicans hate Latinos."
"This caused quite a stir, and at the time I was superintendent of schools and a lot of people came to me and said, 'You need to stop them from having these controversial speeches in schools,' and I said, 'No, it's perfectly all right for kids to hear about controversial speeches, but they need to hear from both sides,'" Horne says.
Horne did not visit any of the classes, but his office looked into them and determined students were not being taught both sides. At first, Horne unsuccessfully tried to get the school district to "pay attention" and then he wrote a bill that would give power to the superintendent to "put a stop to it," Horne says.
That bill was HB2281, which was signed into law by Gov. Jan Brewer in 2010.
The controversy surrounding this issue was featured on The Daily Show with Jon Stewart Monday night.
Comedy Central's popular satirical news show aired an interview with Michael Hicks, TUSD governing board member, and Curtis Acosta, a TUSD Mexican American Studies teacher.
Watch the full segment below.