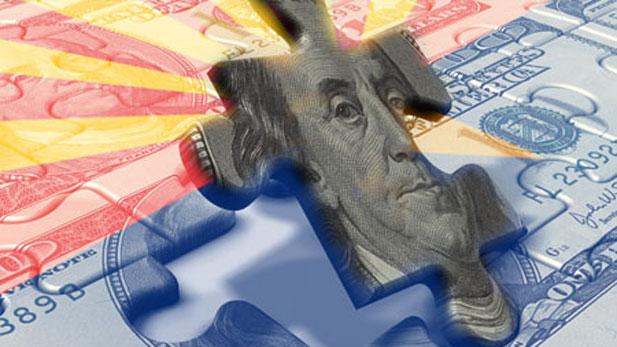 Republican legislators will add $147 million to the 2012-13 Arizona state budget, but negotiations are at an impasse because Gov. Jan Brewer wants more, House Appropriations Committee Chairman John Kavanagh says.
Kavanagh, R-Fountain Hills, said in an Arizona Week interview Wednesday at the state Capitol that legislators are at their limit on spending.
"Right now, we are pretty much pushing $9 billion in total spending, and the Legislature doesn't want to go beyond that," Kavanagh said. "We think it's dangerous. The governor still wants to continue. We're pretty much at an impasse."
Kavanagh listed the legislators' agreed-upon additions to the budget as $20 million for the third-grade reading program, $15 million for university parity, $9 million for the University of Arizona College of Medicine's Phoenix campus, $50 million to build a maximum-security prison, $8 million for disabled-care providers, $39 million for services for the seriously mentally ill and $6 million to cover municipal water fees.
"We still have major differences with the governor," he said. "She still wants to spend considerably more on education, and she wants to give a pay increase to (state) employees that will cost $40 million this year and $19 million each year subsequent to that. And she wants $60 million for school building renewal."
Kavanagh said the difference between the positions of Republican legislators and the Republican Brewer is "a couple hundred million dollars." He said legislators want to save $450 million for potential financial shortages in the next two years, and his best guess was that the governor wants to "roll over" $200 million.
State revenues are up well beyond all projections, and that has led Brewer to stick adamantly to her initial budget proposal released in January.
It asks for a total of $300 million in additional spending for education, the new prison and hiring more correctional officers, additional universities funding and more spending on those she calls "the state's most vulnerable," meaning children and people with severe mental disabilities.
In vetoing a bill aimed at downtown Tucson redevelopment changes this week, Brewer said she won't sign any legislation with fiscal implications until the Legislature deals with her budget proposals.
"As you know, a budget agreement has not been reached due, in part, to differences in funding key areas of state government encompassed by Proposition 100," Brewer wrote in her veto letter to House Speaker Andy Tobin on Monday. "My FY 2013 budget is designed to protect these vital areas of state government and to fulfill the Proposition 100 mandate given by Arizona voters."
Voters approved Proposition 100 by an overwhelming margin in 2010 as a 1-cent sales tax increase for three years, with all of the expected $1 billion a year in proceeds to go to education.
Kavanagh said the Legislature may finish all non-budget work and adjourn the regular session by the targeted 100-day mark, which is April 17, and then come back in special session to complete the budget. Deadline for setting the budget is the end of the fiscal year, June 30.