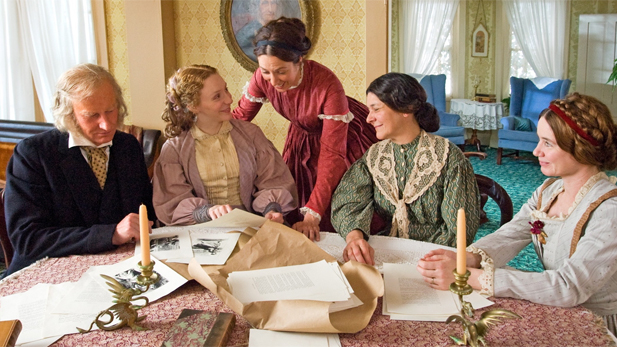 The Alcott family looks over the galleys of Little Women in a scene filmed at Orchard House, the Alcott family home in Concord. Pictured (l-r): Daniel Gerroll as Bronson Alcott, Marianna Bassham as May, Elizabeth Marvel as Louisa, Dossy Peabody as Abigail and Linda Amendola as Anna. (PHOTO: PBS)
The author of Little Women, is an almost universally recognized name. Her reputation as a morally upstanding New England spinster, reflecting the conventional propriety of mid-19th-century Concord, is firmly established. However, raised among reformers, Transcendentalists and skeptics, the intellectual protege of Emerson and Hawthorne and Thoreau, Alcott was actually a free thinker with democratic ideals and progressive values about women — a worldly careerist of sorts.
Most surprising is that she led, under the pseudonym A.M. Barnard, a literary double life, undiscovered until the 1940s. As Barnard, Alcott penned scandalous, sensational works with characters running the gamut from murderers and revolutionaries to cross-dressers and opium addicts — a far cry from her familiar fatherly mentors, courageous mothers and appropriately impish children.
American Masters: Louisa May Alcott: The Woman Behind Little Women, Monday at 10 p.m. on PBS 6.