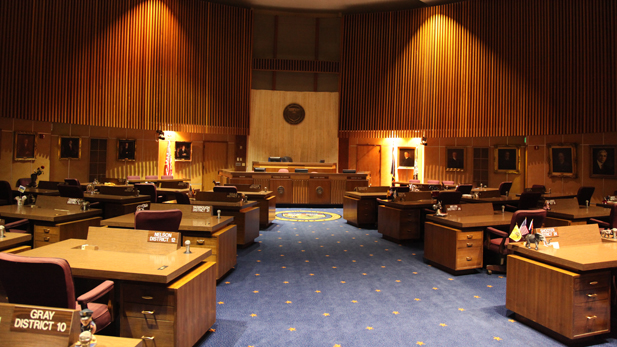 The Arizona Senate chamber.
The 2012 regular session of the Arizona Legislature has been a "slow grind," but work is getting done and adjournment could hit the target of April 17, Senate Majority Leader Andy Biggs says.
Biggs was one of three legislative leaders interviewed for Friday's Arizona Week to assess the Legislature's progress. Also interviewed were Senate Assistant Minority Leader Leah Landrum Taylor and House Appropriations Committee Chairman John Kavanagh.
"This session has been, I would call it like a slow grind," said Biggs, a Republican from Gilbert. "It's been, I think, we've gotten some things done. But everything seems to have been a grind."
Biggs said that may be due to residue from the fight between Republican legislators and the Arizona Independent Redistricting Commission, the ethics case against Rep. Daniel Patterson of Tucson and the recall last year of Russell Pearce, who was removed as president of the Senate.
Kavanagh and Landrum Taylor said they thought the session was moving swiftly, both mentioning the caveat of the budget not yet being completed. They and Biggs discussed the budget at length see budget story here.
Each had a favorite area of accomplishment.
Kavanagh said it was the passage of several right-to-life bills, which he called an important issue to him.
Landrum Taylor said she liked that work was progressing on improvements for Child Protective Services, including stronger ties between the agency and law-enforcement officers.
Biggs said the structural work that the Legislature did last year on the state budget, especially looking ahead several years, was something he was counting on being continued in this session and going forward.
Each also felt there was still work to be done.
Kavanagh said he wants a strong ethics bill passed for legislators in the wake of the Fiesta Bowl scandal of last year.
Landrum Taylor said she still wants to see more action on the safety net for children and some restored funding for education.
Biggs said regulatory reform, tax reform and the governor's personnel reform package are among the major issues needing more work.
All three said they think the Legidslature will adjourn the session gefore the end of April -- Biggs said he still targets the 100-day mark, which is April 17 -- but getting the budget done could delay it.
Kavanagh said how legislators might handle that is to adjourn on April 17 so lawmakers can go home to begin campaigning for re-election and raising money and then return for a special session just to get the budget passed.
Watch the episode here.