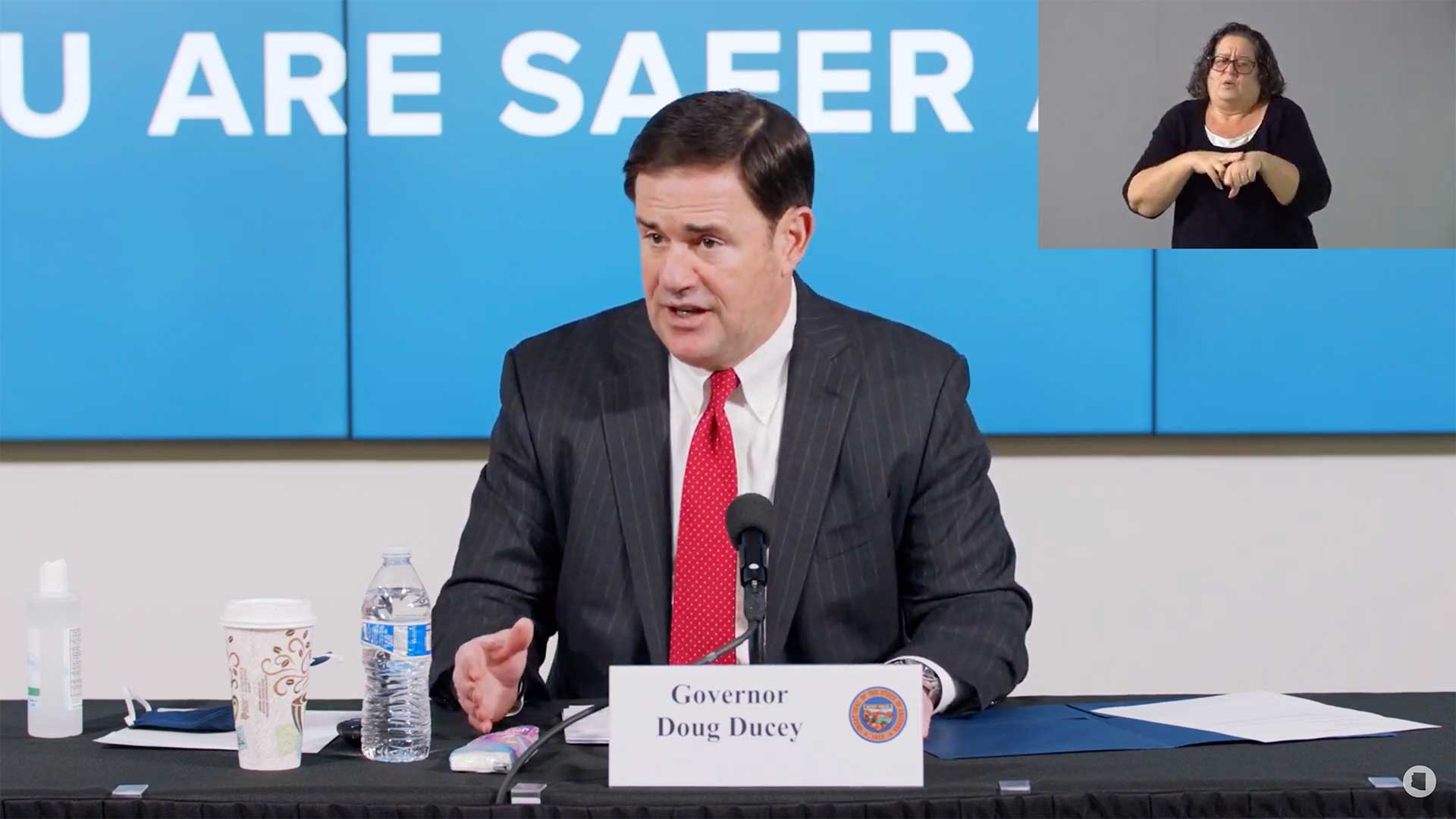 Gov. Doug Ducey at July 30 update on Arizona's response to the COVID-19 pandemic.
Office of the Arizona Governor/YouTube
The Associated Press contributed to this article.
Arizona Gov. Doug Ducey Thursday prohibited government mask mandates and allowed bars and nightclubs that have been shuttered for months to open their doors without restrictions. Ducey's move leaves in place few of the restrictions he implemented to curb the spread of the coronavirus.
His order still allows businesses to enforce mask mandates if they want, but cities, towns and counties must lift theirs. Restrictions on gatherings of 50 or more people also were lifted, but organizers are required to "encourage" safety precautions like social distancing.
The Republican governor cites rising vaccination rates and the opening of vaccine appointments to all adults, as well as a declining number of infections and hospitalizations.
Reaction from various interest groups was mixed. Leaders in government and health care were largely opposed. The executive director of the Arizona Public Health Association, Doctor Will Humble, called the move unwise, but not catastrophic. He says many of the people affected are working-age adults who haven't been vaccinated. "Throughout this entire pandemic people in their twenties and thirties especially and also forties have been the primary amplifiers of this virus, and they only qualified for an appointment starting yesterday," Humble said.
Tucson Mayor Regina Romero called Ducey's order premature, and said the city's mask mandate would continue, on advice from the city attorney Mike Rankin. At a Thursday afternoon news conference, Rankin said the city's authority to mandate mask wearing comes from the city charter.
"The mayor and council as the governing body have the authority to adopt ordinances that are necessary or expedient for the purpose of controlling or stopping the spread of infectious diseases within our community," Rankin said.

He noted that the charter was adopted in 1929, when the 1918 Spanish Flu pandemic was still a fresh memory for many.
While the city mask mandate carries a fine for non compliance, Romero says its purpose is educational. A Tucson Police spokesman confirmed there is no record of anyone being cited or fined for not complying.
City council member Steve Kozachik issued a statement saying the executive order "ignores science." Pima County Chief Medical Officer Dr. Francisco Garcia said it is "way too early to be easing mitigation measures."
One of the few positive comments came from the Arizona director of the National Federation of Independent Business, Chad Heinrich, who called the relaxed restrictions "a welcome sign that the business requirements are transitioning to recommendations"