Michel Marizco, a Tucson-based Fronteras Desk reporter working out of the AZPM newsroom, has won a National Headliner Award.
The prestigious award is one of the oldest and largest annual contests of journalistic merit in the U.S.

Marizco was honored for his story, "The Drug War And Cartels Lead To An Exodus In Northern Mexico," which was broadcast in June 2011 and is available here.
The piece captures life in the 300-year-old mission town of Tubutama, where drug-related violence has driven residents from their homes and left the town struggling to survive.
Marizco spoke with the town's few remaining residents and with "El Gilo," the narco-trafficker whose presence fuels some of the violence.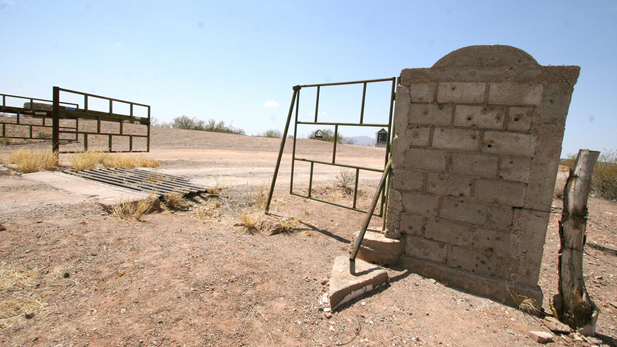 A bullet-ridden rest-stop along the highway to Tubutama, in Northern Sonora, Mexico. (PHOTO: Michel Marizco)
He faced considerable challenges to report the story, not the least of which was the threat to his safety.
"We were going into an area where there's no federal control--it's a no man's land," said Marizco. "That was a little intimidating, but people do live there and they need a voice too."
Fronteras Desk is a multimedia partnership among seven public radio stations that aims to report on the changing face of America.
The Fronteras Desk's multi-lingual reporters--based in Phoenix, Ariz., San Diego, Calif., Las Vegas, Nev., San Antonio, Texas, Tucson, Ariz., Flagstaff, Ariz., and Las Cruces, N.M.--work to tell the real, relevant and often overlooked stories of how immigration is changing the Southwest and reshaping the nation.
Since the first National Headliner Awards were presented in 1935, more than 2,000 journalists and news organizations have been honored with Headliner medallions.