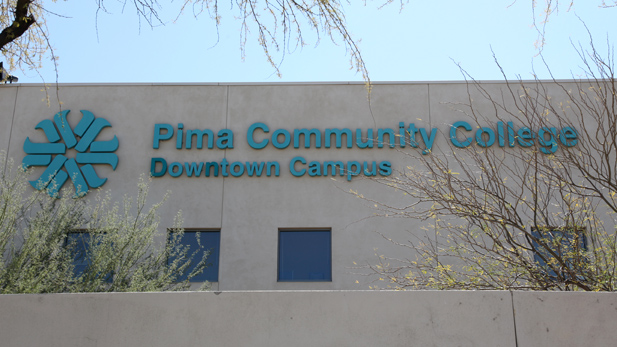 Pima Community College Downtown Campus (PHOTO: Fernanda Echavarri)
The Pima Community College Board of Governors unanimously approved former Chancellor Roy Flores' request to end his affiliation with the college on June 30.
PCC called the Tuesday night special meeting after Flores wrote a three-paragraph letter Monday saying he intends to "sever all ties with the college" because of continuing health problems. He underwent quadruple-bypass surgery last fall and an emergency angioplasty in February.
In late January, Flores announced we would retire in December, but a few days later he had heart problems, went on an indefinite medical leave and recommended Suzanne Miles as his replacement.
The governing board rejected Flores' recommendation to appoint Miles at first and Flores then took his retirement offer off the table, saying he would stay on until June 2013.
The board agreed to continue paying Flores the chancellor salary of $288,000 a year until that date but said he would not be acting as chancellor. Instead he would perform only duties assigned to him by the board.
The governing board said it is starting a national search for a permanent chancellor and has appointed Miles as interim chancellor.
Scott Stewart, PCC's governing board chair, said Flores' multiple retirement offers are unusual but allowed by the board "under these circumstances."
As first reported in a story last month by Arizona Public Media, current and former employees voiced allegations of bullying, harassment and female employees alleged sexual misconduct by Flores.
Stewart said the college was investigating, but he would not comment further.
A press release sent after Tuesday night's meeting said "allegations of unprofessional conduct were brought against Dr. Flores by a number of former and current PCC employees on March 26. The college immediately began looking into the allegations and informed PCC's Governing Board. Dr. Flores denies any wrongdoing.
"Federal and state law, college policy and common decency require PCC to keep the allegations confidential. The college will not release the names of the individuals or the specifics of their allegations," the release said.
Flores is unavailable for interviews, a college spokesman has said.
Read Roy Flores' Retirement Letter Here: View at Google Docs | Download File