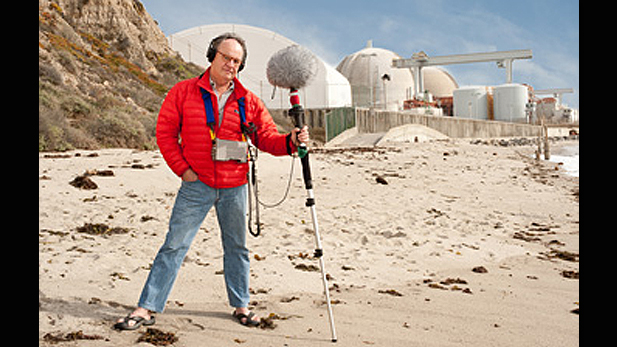 BURN's Alex Chadwick (PHOTO: APM)
Alex Chadwick tackles one of the most important energy questions facing America: Are we running out of oil? It's not an easy question to answer, and Alex travels to some of the country's most important petroleum exploration sites in an effort to understand what's at stake. What is oil? How can you find it? How is it extracted, refined, transported and utilized? Could we get along without it? What goes into pricing a gallon of gas at the pump? These are some of the issues Alex will report on in this special.
On this, the second anniversary of the Deepwater Horizon oil spill in the Gulf of Mexico, Alex visits the Gulf coast, where hundreds of offshore rigs cut into the ocean's bottom in an unabated effort to satisfy the country's petroleum needs. But as drilling continues, so does debate over the impact of Deepwater Horizon. Where did all that oil go? Is the seafood safe to eat? Two years on, how are the people and ecosystems of the Gulf holding up?
Further north, in Utah, sits the Covenant Oil Field, one of the biggest petroleum finds in the U.S. in thirty years. We all know the big names in oil and gas such as BP and Chevron, but most of the oil and gas wells in the U.S. are owned by small independent operators like Wolverine Gas and Oil Corporation. In 2003, playing out a hunch, Wolverine owner Sid Jansma hit it big in Covenant. Alex goes to that oil field with Jansma to talk about the uncertain business of oil exploration. Other stories in the hour include: Oil pipelines. There are tens of thousands of miles of them crisscrossing the U.S. It's a vital and cost effective mode of fuel transport. But many of the pipelines are old, and sometimes they leak, causing harm to people and the environment. And: The cost of a gallon of gas. It's more than supply and demand that determines the price.
Hunting for Oil, Risks and Rewards, Sunday at 3 p.m. on, NPR 89.1FM/1550 AM.