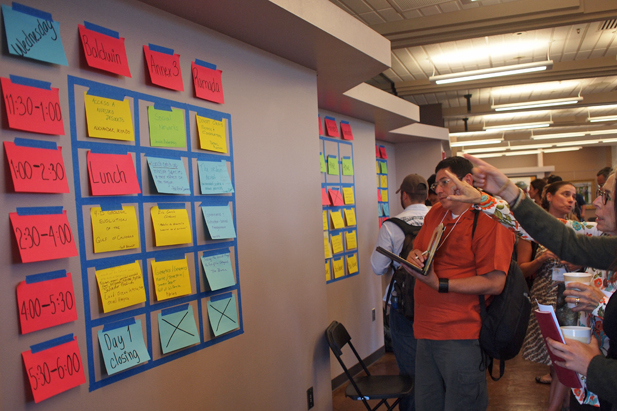 PHOTO: Gisela Telis
Attendees at the Next Generation Sonoran Desert Researchers workshop pick and choose sessions in the three-day bi-national gathering.
A unique conference opening Wednesday at the Arizona-Sonora Desert Museum brings together researchers from both sides of the U.S.-Mexico border in a rare opportunity to collaborate.
The bilingual, bi-national Next Generation Sonoran Desert Researchers gathering includes scholars from a range of disciplines, from archaeology to ecology, who share a focus on the Sonoran Desert region.
"People studying this area don't have an opportunity to connect with each other," says organizer Benjamin Wilder, a doctoral student in botany at the University of California in Riverside. "And there are just so many pressing issues here that we can only address as a community."
Wilder, who specializes in vegetation on the islands of the Gulf of California, says the idea for the conference started, "like all good things, over some mescal."
He met with linguist Carolyn O'Meara, a Tucsonan who teaches at the Universidad Nacional Autónoma de México, in a Mexico City bar and discussed the difficulties they faced in finding and meeting other Sonoran Desert researchers.
They thought a conference could help their small scientific community connect. Wilder's adviser, plant ecologist Exequiel Ezcurra, immediately supported the idea, and a series of grants and donations followed.
Ezcurra told the gathering he had longed for such a cross-cultural meeting since the September 11, 2001 attacks, but that international cooperation had cooled in the aftermath of that event.
"The dream of bi-national cooperation died that day," Ezcurra said in Spanish. "Now we must build new cultural bridges."
The meeting will continue through Friday.