The Benedictine Sanctuary on Country Club Road in Tucson is hard to miss.
It's a stately, stucco building that glows a pinkish tint in the setting sun and is adorned with religious statuary. The building is 73 years old and marked by a prominent tower on its north side. And in the adjacent parking lot, two large solar arrays sit in parallel. They are both at least 150 feet long, and are high enough to provide shade for the parking spaces below.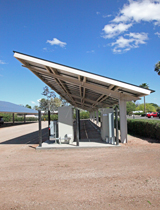 The monastery's solar array also provides shade for parked cars. (PHOTO: Mark Duggan)
The solar panels are now powering much of the facility, including the chapel, gift shop, and living quarters for more than 25 nuns who live within the sanctuary's walls.
They're part of the Benedictine Sisters of Perpetual Adoration. According to their website, they're part of a contemplative order that dates back to 1853, and are informed by St. Benedict of Nursia, a 6th-century Roman Catholic saint.
The order has monasteries in Tucson, Clyde, Mo. and Dayton, Wyo.
The sisters were able to use a variety of incentive programs to help pay for the solar array. They estimate it will cut their power bills by as much as 80 percent.
It's not the sisters' first experience with solar energy. They've had a small array on their roof for about five years, and use it to power a heater for laundry water. And they collect rainwater in two large wells, one above ground, the other below.
Sister Joan Ridley is the assistant to the sanctuary's prioress and is also in charge of maintenance for the building. She had no prior experience in the finer points of thermostats and air handlers but you wouldn't know that today.
She learned, she says with a laugh, with a bit of "screaming and fussing." And the help of many people from outside the sanctuary.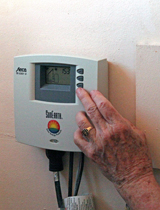 Sister Joan Ridley operates the thermostat for the monastery's solar water heater. (PHOTO: Mark Duggan)
People who wanted to help, including Tucson architect Hank Krysik, who serves the sisters as their consultant on all things renewable energy. Krysik has also been instrumental in installing solar panels at his own Tucson church, Our Mother of Sorrows. He's also worked with a local synagogue, the Temple Emanu-El.
Sister Ridley says the Benedictine Sisters' move toward solar energy is about more than just saving on energy costs.
She says their push to make the monastery more energy efficient is rooted in their spiritual tradition--specifically, in a belief that even the ordinary, such as electricity, is sacred.
Additional resources:
Sister Joan Ridley talks more about the Roy Place-designed Benedictine Sanctuary and its 73-year history in Tucson:
Watch a video profile of the Benedictine Sanctuary, produced by Arizona Public Media's Luis Carrion.
Electronic text of a 1949 translation of The Holy Rule of Saint Benedict. The nuns at the Benedictine Sanctuary order their monastic lives according to the rule.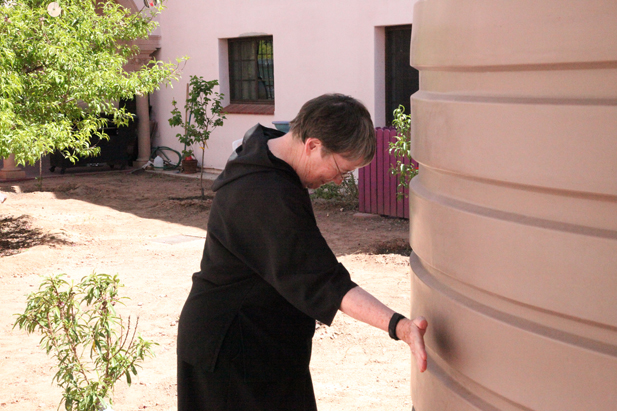 Sister Ridley knocks to check the level in the monastery's water tank. (PHOTO: Mark Duggan)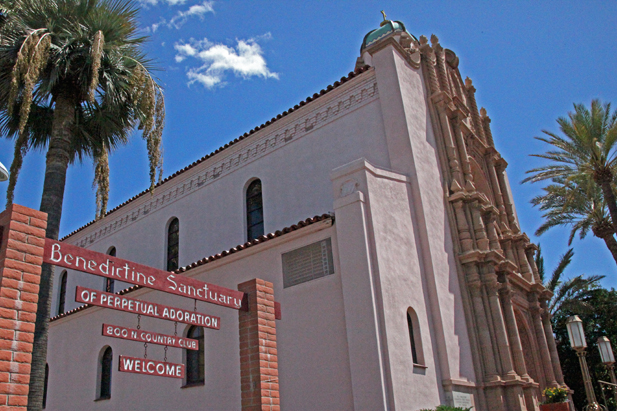 The Benedictine Sanctuary has a chapel, gift shop and community garden. (PHOTO: Mark Duggan)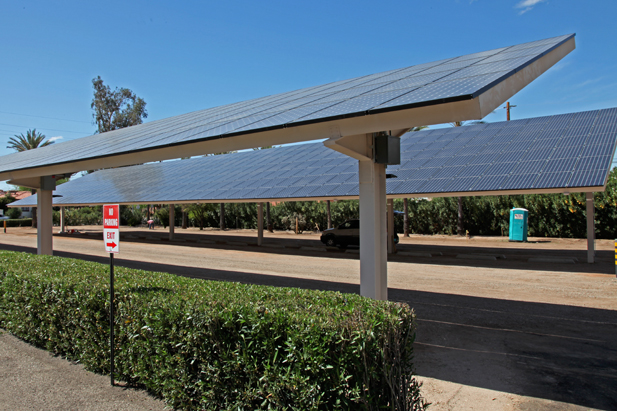 The Benedictine Sanctuary is now largely powered by a large solar array in the parking lot. (PHOTO: Mark Duggan)