Most astronomers - amateur and professional - admit they first became fascinated with the heavens at an early age. A new educational series produced at Lowell Observatory in Flagstaff is using animated characters to help get children interested in the science.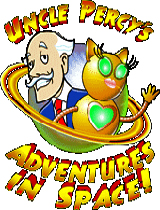 PHOTO: Lowell Observatory
Uncle Percy and his robot companion Miss Kitty.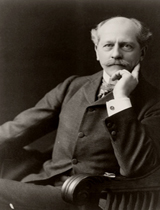 PHOTO: Lowell Observatory
Uncle Percy is modeled after Lowell Observatory founder Percival Lowell.
Uncle Percy's Adventures in Space takes kids on an interactive journey through the solar system. Uncle Percy - based on Lowell founder Percival Lowell - and a robot in a wheelchair named Miss Kitty use Lowell Observatory as a launching pad for their explorations. They fly in a spaceship version of Mr. Lowell's car, a 1911 Stevens-Duryea.
The 11-part series is free at the observatory's website. It's targeted for children ages 4-8. Each episode includes a workbook for use in school programs.
Series creator Chuck Wendt calls Uncle Percy's Adventures In Space "a labor of educational love." He says the series concentrates on astronomy, but give kids a chance to explore other sciences, as well.
Visit the Collecting Light website for more stories, interviews, resources and images.