Listen:
In a simple house on a quiet street in Sierra Vista, Ruanda Dolak is waging war.
She's caring for her husband, who is undergoing cancer treatment. She's raising two children on little income. And she's trying to get treatment for a mental illness that has shaped her life for decades.
Dolak, a native of South Africa who has lived in Sierra Vista for seven years and in the U.S. for almost 30, suffers from bipolar disorder. She has lived with uncontrollable mood swings all her life, but didn't have a name for what was wrong until she was 36 years old.
"One morning, my husband woke to find me sitting on his chest with a brass lamp in my hand, about to smash it into his face," she says. "He said, 'Honey, I think we need to go to the hospital."
At the hospital, a psychiatrist finally diagnosed Dolak, and she began receiving treatment through the state behavioral health system.
The state system is designed to help people like Dolak: Arizonans who are mentally ill but don't qualify for AHCCCS, the state Medicaid program, because they make too much money. That income usually comes from Social Security disability benefits, which often pay just slightly more than the AHCCCS limit.
Until recently, patients in the state system could count on a broad range of services guaranteed by state law.

Those services allowed Dolak to receive counseling, medication and access to several rehabilitation programs. She was even taking part in vocational rehabilitation to begin working again, even though she qualified for Social Security disability benefits.
But then a series of decisions by the state of Arizona brought everything to a stop.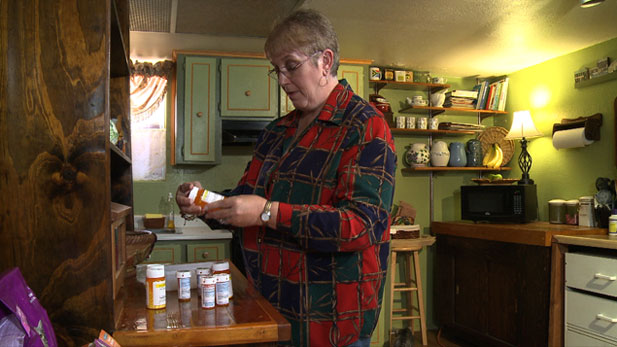 Ruanda Dolak, who lives with bipolar disorder, lost many of her mental health services after a series of state budget cuts.

AZPM
Faced with a multi-billion-dollar budget deficit, the state slashed its mental health budget, even though its governor had long defended the system and the community it serves.
In the end, Gov. Jan Brewer—whose own son counts among the state's severely mentally ill and institutionalized individuals—couldn't spare the state's mental health programs from the cuts, says Dr. Laura Nelson, deputy director and chief medical officer of the Arizona Division of Behavioral Health.
"I couldn't believe Arizona was needing to take this drastic a step," she says, "but behavioral health was the only thing left."
The state behavioral health system took the hardest hit. Nearly 40,000 people served by that system have been affected, including 12,000 to 14,000 who are considered seriously mentally ill.
Dolak tried to apply for AHCCCS to keep some of her services. But her disability benefits pay $13 a month more than the income limit to qualify.
She eventually found a therapist willing to take her disability insurance, but with copays topping $200-300 each month, it's still tough.
"It gets to be pretty pricey on a limited income," she says. "We've had to go to churches to get food, the Salvation Army ... we're constantly worried if there's going to be enough money at the end of the month."
Dolak considers herself lucky. She's managed to find resources and support to help her cope with the loss of her services.
She knows others are not so lucky.
Just down the road, in a tidy, white manufactured home, Eric Harris lives with firsthand knowledge of how unlucky some can be.
His sister, Monica Stefanov, struggled with bipolar disorder and schizoaffective disorder throughout her life.
"Around eight or nine years old, they would notice differences with her—anger, outbursts," Harris recalls. "There was an instance where she threw lit matches at my grandmother."
In her stable periods, Stefanov showed no signs of her illness. She worked as a nursing assistant and in tech support and was married for a time. At her worst, she landed in jails and hospitals and once tried to commit suicide.
In spring of 2010, Stefanov had found some stability through peer counseling and Invega, a brand name drug that has no generic version.
"She was fairly stable at that point," says Harris. "She was back in school and going to community college, before her services were ripped out from underneath her."
Stefanov lost her medication, her case management and her counseling and soon dropped out of school.
She grew more paranoid and withdrawn as the months wore on. Convinced that people were watching her, she covered her doors and windows and once attacked a neighbor she thought was monitoring her with cameras.
When she was evicted following that attack, she came to live with Harris and his wife.
"We knew when we took her in that she couldn't take care of herself, and we'd accepted that we would care for her for the rest of her life," says Harris. "We didn't realize the rest of her life was only three days."
On Jan. 8, 2011, Stefanov died of an apparent overdose. She was 40 years old.
"They considered it an accident, but knowing my sister, I believe she knew what she was doing," says Harris. "It was all she had and she took what she could."
Nelson says that stories like Dolak's and Stefanov's, however unfortunate, are the exceptions.
"I have to honestly say that Arizona has weathered this storm better than any of us expected," she says. "Would I have wished this on Arizona? Absolutely not. It's been a challenge to the system. But we've been successful at keeping the system stable and responsive."
Until the state can put money back into the behavioral health system, Nelson says, everyone will have to do more with less.
Gov. Brewer's proposed budget for fiscal year 2013 calls for $39 million to be put back into the state's mental health programs, to repair what she terms a "badly frayed" safety net.
Lawmakers are still debating the budget. If it passes unchanged, it could reinstate certain medications and other services that patients in the state system have lost.
But until then, Eric Harris says, Arizona's families will continue to bear the burden.
"In the state of Arizona, we have this big gap now where people with mental illnesses, if they make just a little bit too much money, don't have the services that they need," he says, "or they're having to dip into their own pockets, and their pockets aren't that deep."