Most people know that water is a scarce resource in the desert, and that the role it plays in Southern Arizona communities can be complex. But it might come as a surprise to some that dance can be part of the dialogue around water issues.

Kimi Eisele is co-director of NEW ARTiculations Dance Theater. The group recently collaborated with Borton Primary Magnet School on a project titled FLOW. Eisele says FLOW is a project that seeks to explore the local watershed, the Santa Cruz River and water conservation strategies through dance.
Eisele says the performance at Borton is the culmination of a residency designed to introduce young children to the role that water plays in the environment, while teaching basic dance techniques as well.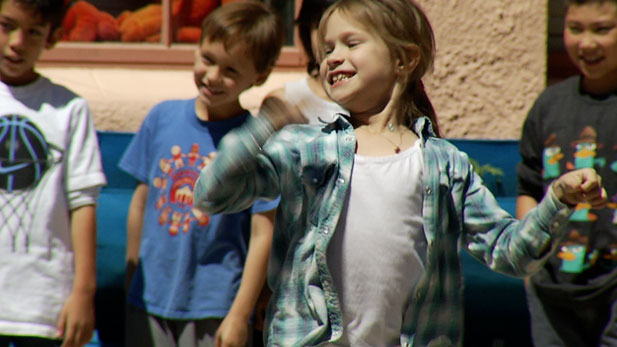 PHOTO: AZPM
A local modern dance company and Borton primary school collaborate to teach students about water's precious role in the environment.
"It's about introducing kids to their bodies," says Eisele. "Of course kids are in their bodies, and they're very active… but then how can we more skillfully use our bodies to communicate things."

Eisele says children, unlike adults, are less inhibited when it comes to the concept of interpretive dance.

Micha Hoeffner, one of the Borton primary school students who participated in the residency, says this is a little out of her normal class routine but she's glad to have had the chance to create a dance that tells the story of water in the desert.

"I did a dance about water, and how water flows as it moves to a river or an ocean," says Hoeffner. "You have to be very careful with water because we don't have a lot here-–so you have use it well, and drink it well."

You can get more information on future FLOW projects here.