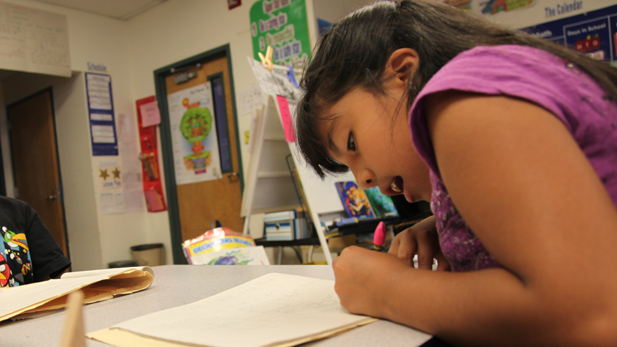 PHOTO: Fernanda Echavarri
Lisette Aguilla, 7, working on math assignments at C.E. Rose Elementary School.
C.E. Rose Elementary School is the first and only school in Arizona to receive the Excellence in Urban Education Award from the National Center for Urban School Transformation.
Nine years ago, the school was given a failing grade by the Arizona Department of Education and was about to go on corrective action. That's when Stephen Trejo became the principal.

"We had one year to turn the school around, and it was a tough road," Trejo says. Now, the school is thriving academically with approximately 75 percent of its students achieving proficiency in math and reading.
It is one of seven elementary schools in the country receiving the award.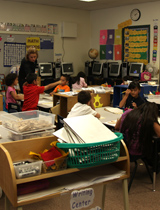 PHOTO: Fernanda Echavarri
Students at C.E. Rose Elementary
C.E. Rose is in a low-income neighborhood on Tucson's South Side. Ninety-six percent of its students are receiving free or reduced meals, 20 percent are English learners and 13 percent are students with disabilities, according to statistics from the National Center for Urban School Transformation.
Trejo's deep commitment to the students and the community "highlights that the people who do this work and do it well, end up making the types of transformations in the way it has been done at C.E. Rose," says Lynne Perez, associate director for the National Center for Urban School Transformation.
"They face the same challenges as other urban schools do, they serve similar populations, but the difference is that they're getting incredibly remarkable results for all groups of students," says Perez.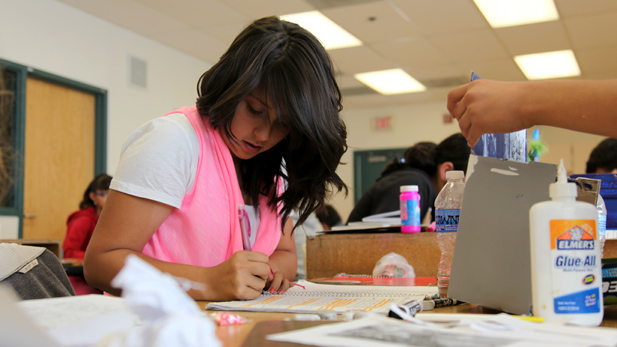 PHOTO: Fernanda Echavarri
Jawney Rios, 12, says her grades have dramatically improved since she transferred to C.E. Rose Elementary.
Trejo credits teachers, staff and parents for pushing the students to do their best.
Jawney Rios, 12, has been at C.E. Rose for the last three years. She's in the sixth grade now and she says her grades have improved dramatically since she switched to this school because teachers don't let any student fall behind.
"If you're having trouble, this school teaches you not to get down on yourself," Rios says. "They push you and they believe in you, and if you ever feel lonely, they're going to make you feel like you're welcome and like you belong."
That type of self-esteem is only half of what Trejo wants from students. He says it's about them knowing that they are capable.
"When a child starts seeing themselves as successful, they start behaving this way," Trejo says. "But you can't tell them that if they know they're not successful."
At C.E. Rose, students keep track of their improvement through a data notebook program. Students are responsible for knowing how they are doing in reading, writing, where they are falling behind and how they have scored on state standardized testing, Trejo says.
The number of students who are sent to the principal's office for discipline issues has gone down from 150 in a school year to about 40, Trejo says. The center looked at the discipline of students at C.E. Rose as part of the judging criteria.
It has not been easy for C.E. Rose to be one of the top urban schools in the country, but it has been worth it. "Especially when our budget keeps going down, yet our achievement keeps going up," Trejo says.