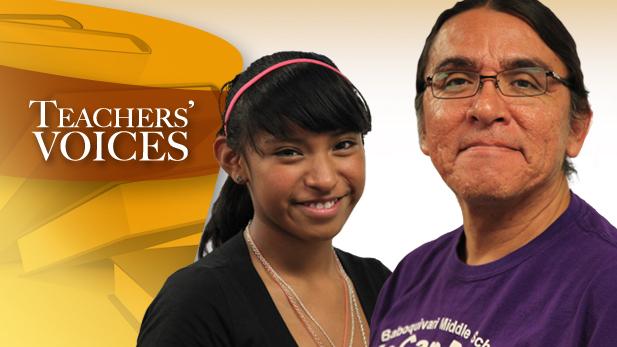 Adrienne Capone (L) is an 8th grade student at Baboquivari Middle School, where Kevin Lopez (R) teaches language arts (PHOTO: Robert Rappaport)
In cooperation with Tucson Values Teachers, Arizona Spotlight presents a special series called Teachers' Voices. These conversations between educators, administrators, and students gives them a chance to share personal stories about the struggles and triumphs of their daily school experience.
In order to balance the state budget for 2012, lawmakers demanded a cut of over $180 million dollars from the funding for Arizona's K-12 schools. The impact of that cut has been felt in innumerable ways, one example being in the lack of funding for arts programs and many other creativity-based after school activities.
But Adrienne Capone, an inspired student at Baboquivari Middle School in Sells, Arizona, gathered together some of her friends who loved to write. They soon enlisted the aid of language arts teacher Kevin Lopez, and together they founded a poetry club for their school. Adrienne and her friends named the group "Encouraging Writers", because that is their very heartfelt goal.
Listen:
Teachers' Voices will air bi-weekly throughout 2012 on Arizona Spotlight, funded in part by The Arizona Department of Education and Cox Communications.