(VIDEO: AZPM)
Republican Gov. Jan Brewer and Republican legislative leaders reached the usual hard-fought compromise for the state budget for 2012-13, pending final approval expected next week.
Veteran state Capitol journalists Mary Jo Pitzl of the Arizona Republic and Luige del Puerto of the Arizona Capitol Times assessed the budget negotiations and settlement for Friday's Arizona Week broadcast.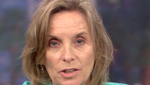 "Like all of these budgets, it's a compromise," said Pitzl (left).
"It appears at this stage of the game -- things could change over the weekend -- the governor is getting what she wants for welfare programs," Pitzl said. "About $40 million, give or take a few, is going to go away from the federal government. The governor wants to replace that with state money for child care, for Child Protective Services, for aging adult services. Apparently she has gotten an agreement that it will be back-filled. That's a big win for the governor."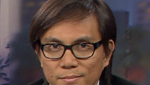 Brewer also will get her requested $37 million for care for the seriously mentally ill, but she won't get anywhere near what she wanted for education, said del Puerto (right).
"She's drastically revised down her (education) spending initiative," he said. "And that's a key to getting a budget agreement."
He and Pitzl said the budget compromise as it stood Friday had $40 million for an elementary reading program, compared with $50 million requested by Brewer, and $12 million for one year for school building upgrades, compared with $100 million over three years sought by the governor.
Pitzl said she wondered at why legislative leaders adjourned on Thursday for the weekend instead of keeping everyone one more day to get the budget passed. Sending them home means lobbying that could lead to unraveling of parts of the spending plan.
""You can sort of safely assume that there will be lots of phone calls and lots of pleas to lawmakers from lobbyists representing various interests if they don't see their cause in the budget or don't see it represented well enough," Pitzl said.
But she and del Puerto said the the compromise should hold, with the Senate taking it up Monday and moving it for House action Tuesday.
On that basis, the Legislature could adjourn later in the week, perhaps Thursday or Friday. If Thursday, that would put the session 16 days past the 100-day target mark for adjournment.
Legislators are eager to go home to begin fund raising for the fall elections and make the needed adjustments to their new legislative district boundaries. Some districts are very different, making the political process more complex.