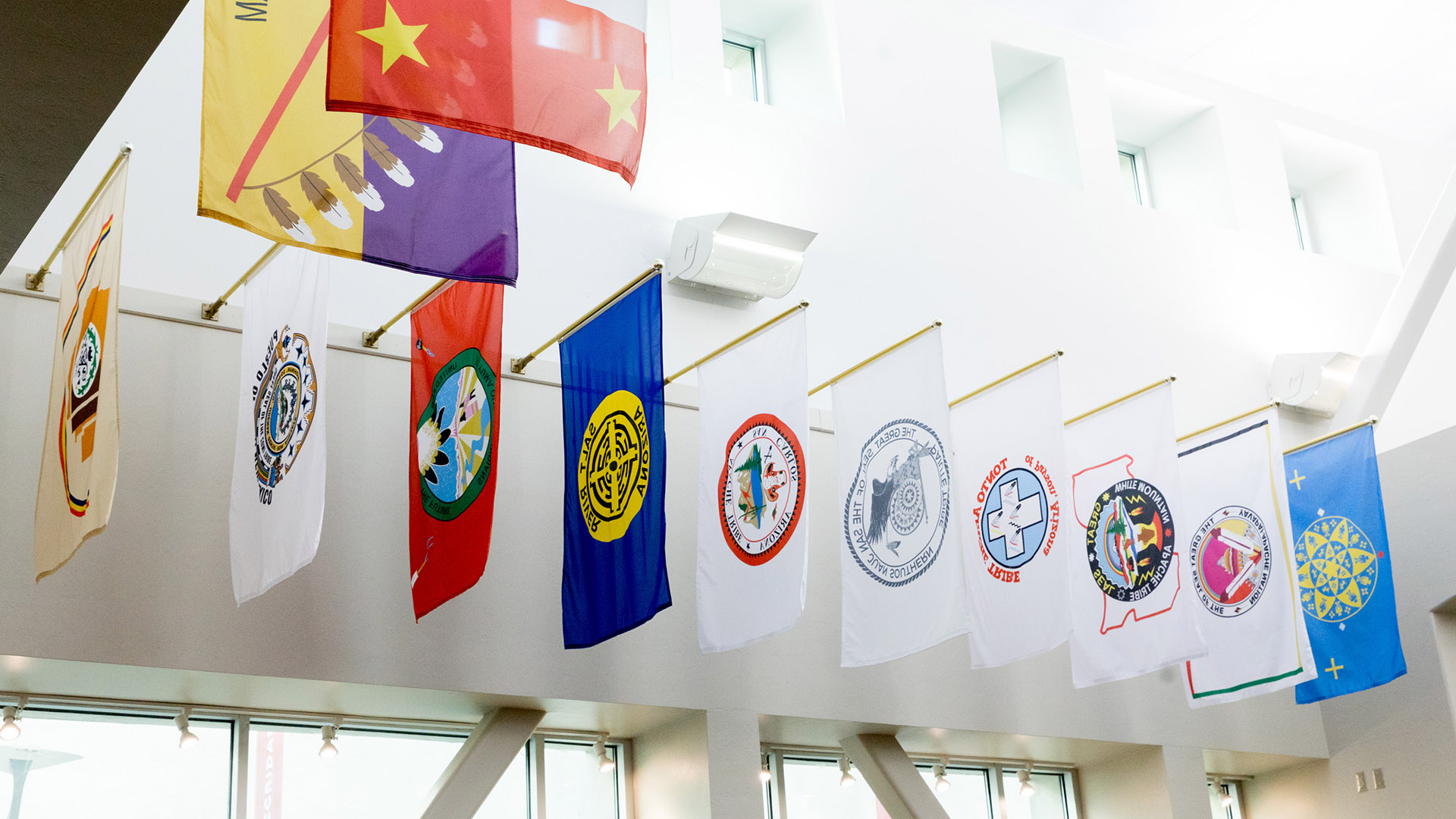 Flags from Arizona's 22 federally recognized tribes displayed at the University of Arizona bookstore in November 2020.
Chris Richards/University of Arizona
The University of Arizona issued a statement Tuesday acknowledging it lies in O'odham and Yaqui traditional lands and said the statement is a "commitment to continue to serve" Indigenous people.
It reads: "We respectfully acknowledge the University of Arizona is on the land and territories of Indigenous peoples. Today, Arizona is home to 22 federally recognized tribes, with Tucson being home to the O'odham and the Yaqui. Committed to diversity and inclusion, the University strives to build sustainable relationships with sovereign Native Nations and Indigenous communities through education offerings, partnerships, and community service."
N. Levi Esquerra is the Senior Vice President of Native American Advancement and Tribal Engagement at the university, and he's also a former chairman of the Chemehuevi Indian Tribe in California.
"I think in reality our goal is to make sure that, not only are we honoring the first peoples who were here before us, but in everything we do afterwards, that we have a commitment to continue to serve, whether its through education, partnerships or community service," Esquerra said.
He said the trust built with local tribes allowed him to consult with the Pascua Yaqui Tribal Council and Tohono O'odham Cultural Preservation Committee four or five times while drafting this statement. He recounted that when meeting with tribal governments the goal is to "listen and learn."
"I think when you work with tribes and when you work with individuals, it takes a lot of patience, but from patience comes respect. Once you have respect, you can get to trust, and once you have trust, you can do these things."
Trust he said also has facilitated the recent signing of an intergovernmental agreement between the Pascua Yaqui Tribe and the university and a ceremonial signing to come in August.
He said he's using the statement to guide what questions he asks, like how the university's cooperative extension in agriculture can help the Cocopah and Fort Yuma Quechan Indian tribes.
"Especially when you go to Yuma, lettuce is king," he said. "What resources do we have to assist them in this asset that they have when it comes to farming lettuce?"
Esquerra is also looking at ways to efficiently use UA extension offices in tribal lands, like those in the San Carlos Apache and White Mountain Apache tribal lands, and possibly turning them into entrepreneurship hubs.