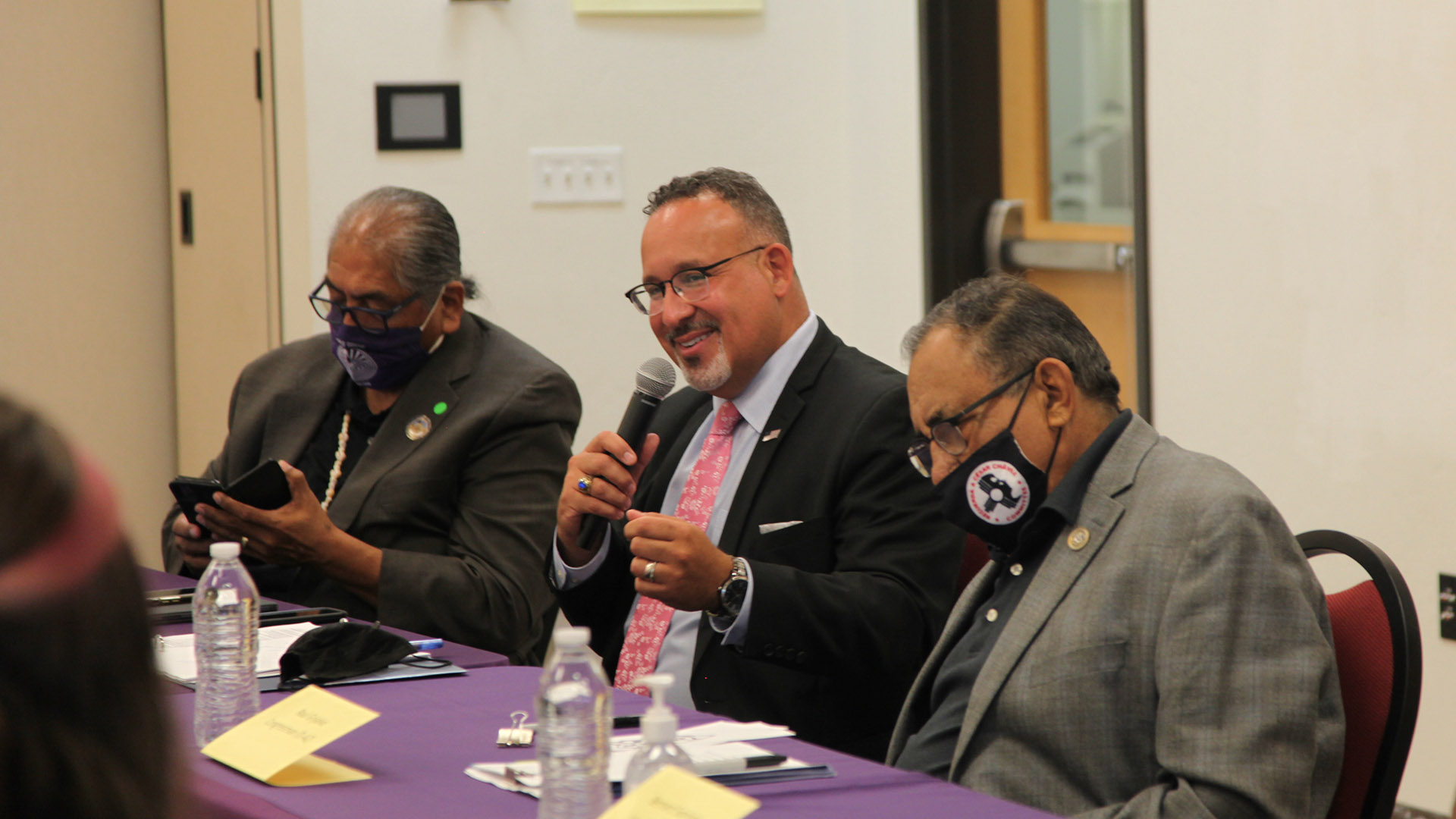 Tohono O'odham Community College hosted a listening session July 15, 2021, with U.S. Secretary of the Education Dr. Miguel Cardona.
Emma Gibson/AZPM
Tohono O'odham Community College hosted a listening session Thursday with U.S. Secretary of the Education Dr. Miguel Cardona, students, educators and tribal leaders of the nation.
Secretary Cardona said he was there to listen and learn, but he also came prepared to tell the group the pros of President Joe Biden's three-part 'Build Back Better' agenda. The group used the opportunity to boast about the community college, the uniqueness of tribal colleges, and the value of reclaiming education after the country's boarding school era.
"TOCC is helping build the next generation of Native leaders in a culturally relevant and engaging environment where the majority of the student population is Native American or Alaska Native," Secretary Cardona said after affirming the Biden administration's commitment to honor tribal sovereignty.
The 'Build Back Better' agenda contains the American Rescue Plan, the American Jobs Plan, and the American Families Plan. Cardona highlighted the president's agenda for free preschool for three and four-year-olds, free community college and steps to end teacher shortages.
He also discussed the American Indian Resilience in Education Grant Program which he touted will support "culturally-relevant projects" to keep kids in school or help them re-enter it with program like bi-lingual or bi-cultural education, nutritional services or early childhood education.
Tohono O'odham Chairman Ned Norris Jr. told Cardona how the tribal nation — roughly the size of Connecticut — has more than 50 villages that usually have running water and electricity, but don't have reliable internet access and can be very isolated when heavy rains cause flooding.
Former Baboquivari Unified School District Superintendent Edna Morris said in an interview July 2020 that most of BUSD students live an average of 1.5 hours away from Sells.
"We have very unique kinds of things that we're having to deal with that make our ability to provide a quality education to our O'odham students here on the nation much more challenging," Norris said.
Three TOCC students told the secretary how they valued having access to higher education within the nation that puts O'odham culture in the classroom.
Cardona said he thinks "culturally-respectful pedagogy," not just culturally-responsive teaching methods, is needed across the United States.
As of July 7, the Tohono O'odham Nation reported 39% of its members were fully vaccinated and 44% had received one shot.
TOCC President Paul Robertson said "that's not high enough" so TOCC is offering fall 2021 students who can prove they are fully vaccinated $250. Robertson said the incentive plan was made possible by federal funds.
"We adopted a posture where we're requiring all our employees and all our students to be vaccinated, and we're also going to augment that with testing available on a regular basis," Robertson said.
He said in the initial TOCC surveys during the pandemic 45% of students were experiencing food insecurity and 20% didn't have stable housing.
At the end of the meeting, Secretary Cardona recapped some points, including TOCC's desire for larger Pell grants for students.
"I heard about needing more Pell — and I appreciate that — I heard about the infrastructure flexibility that's needed," Cardona said. "You know how to use the money best to support your learners."
Congressman Raúl Grijalva also attended the event and said it is "vital" to include tribal governments and Indigenous people in discussions about recovery strategies and resources.