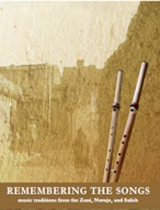 Much of the music featured on "Remembering the Songs" had never before been recorded.
Educator Julie Cajune lives in Northwestern Montana, and is a member of the Confederated Salish and Kootenai tribes. She is also the executive director of the Center for American Indian Policy and Applied Research at Salish Kootenai College, and serves as director of the HeartLines Project.
Her latest collaborative work is a CD called Remembering the Songs, a collection of new recordings of rare tribal music, much of which have never before been recorded.
Mark McLemore talks with Julie Cajune about the inspiration for the project, why she found herself becoming a cultural preservationist, and how she went about working with both Native American musicians and elders to create this unique document...
Listen:
About Julie Cajune:

Julie Cajune has been working in education for 19 years. A former classroom teacher, Julie went on to obtain a master's degree in Bilingual Education and worked as a curriculum specialist for the Confederated Salish and Kootenai Tribes.
Ms. Cajune has worked on culturally responsive educational materials for the National Science Foundation, NASA, the Montana Historical Society and numerous other entities. She recently completed a three-year project developing tribal history materials that was funded by the Montana State Legislature. In 2002 Ms. Cajune received the Milken National Educator Award.

After working at Nkwusm, the Salish Language Revitalization Institute, as the Director of Development and Teacher Supervisor for a year, Julie was awarded a $1.4 million grant from the W.K. Kellogg Foundation to continue work on the development and publication of tribal history materials.
In fall of 2009, UTNE Reader profiled Julie as one of 50 visionaries who are changing your world.