The U.S. Department of Education is investigating an allegation of discrimination at Tucson Unified School District.
Silverio Garcia, from the Phoenix non-profit Civil Rights Center, filed a complaint alleging TUSD discriminated against Latinos by attempting to limit their participation at board meetings. The complaint says the discrimination occurred in part with TUSD officials selecting a meeting room that the district "knew could not accommodate all the individuals attending."
Garcia says TUSD also discriminated against people with limited English proficiency by not providing materials in Spanish at board meeting and online.
A spokesman from the U.S. Department of Education sent the following written statement:
"Our Office for Civil Rights is currently investigating allegations that the Tucson Unified School District discriminated against Latinos on the basis of national origin by attempting to limit their participation at school board meetings of particular interest to the Latino community. And, that the district discriminated against national origin minority individuals on the basis of their limited English proficiency by failing to provide them with meaningful access to district board meetings, the district's Web site and board policies that are available to non-limited English proficiency individuals."
The Office of Civil Rights is evaluating whether to investigate a third allegation by Garcia linked to TUSD's decision to shut down its Mexican American Studies program but keep teaching other ethnic studies programs, a spokesman wrote via email.
On April 18, the U.S. Department of Education notified TUSD and Garcia of its investigation, according to a department spokesman who said his name could not be used for attribution per organization policy.
The school district could lose federal funding if investigators find it violated civil rights.
TUSD officials say the complaint has been referred to outside counsel.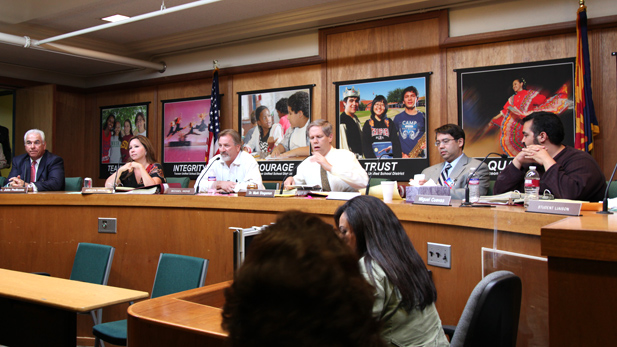 TUSD's superintendent John Pedicone, with board members Adelita Grijalva, Michael Hicks, Mark Stegeman, Alexandre Sugiyama and Miguel Cuevas (PHOTO: Fernanda Echavarri)