A parents' group has garnered half the signatures it needs for a ballot initiative to extend and make permanent the 1-cent education sales tax this fall, the group's president says.
Volunteers for the Arizona Education Parents Network have gathered 90,000 of the 172,809 signatures needed by July 5 to qualify what is being called the Quality Education and Jobs Act for the November ballot, says network president Ann-Eve Pedersen of Tucson.
She says the organization has 6,000 volunteers statewide, and whenever they go out "people are literally standing in line" to sign the petitions.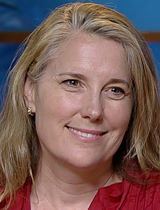 "What this will do is it'll renew the one-cent (sales tax) that voters overwhelmingly approved in 2010, and it will dedicate those funds, 80 percent of them, specifically to education," says Pedersen (left), mother of an 11-year-old elementary school student.
"It will also prevent the Legislature from making any further cuts to K-12 education," she says. "So we will be investing in education across the spectrum – K-12, vocational education, community colleges and universities."
The Legislature last week approved the 2012-13 state budget, including $177 million in added funding for schools at all levels, on top of what had been appropriated for this fiscal year, an increase of about 2.5 percent. That came after four straight years of deep cuts.
The increase wasn't nearly enough in light of an improving economy and state revenues, Pedersen says, so the initiative is needed.
"The public does not trust the Legislature to adequately fund education," she says. "In a poll that we did, 75 percent of voters said they had no confidence that the Legislature would invest in education as revenues increased."
Some legislators say they oppose the Quality Education and Jobs Act, including House Appropriations Committee chair John Kavanagh.
"First, it's not extending the current tax," Kavanagh says. "The current tax gives the money to the general fund, and we're free to spend it where we need. This group is really an amalgam of special interests. And I guess those interests pretty much divvied up where the money would go."
Pedersen counters by highlighting the grassroots origins of the effort.
"If schoolchildren are a special interest group, then, yes, it is benefiting schoolchildren," she says. "This is being put forward by parents. We started this effort, we're leading this effort, and it's because people like Mr. Kavanagh have not been doing their jobs. We wish this was not necessary, but they have de-funded education over the past four years to the tune of $1 billion."
Kavanagh acknowledges that education funding has been cut significantly and needs to be brought back up. But he says the state is still struggling economically and the Legislature should increase funding with caution.
But Senate Minority Leader David Schapira, a Democrat, says the voters should step in.
"If it has to go to the voters and the voters have to make the decision on behalf of the Legislature since the Legislature is unwilling to come up with the political will to do it, then that's what has to happen," Schapira says.