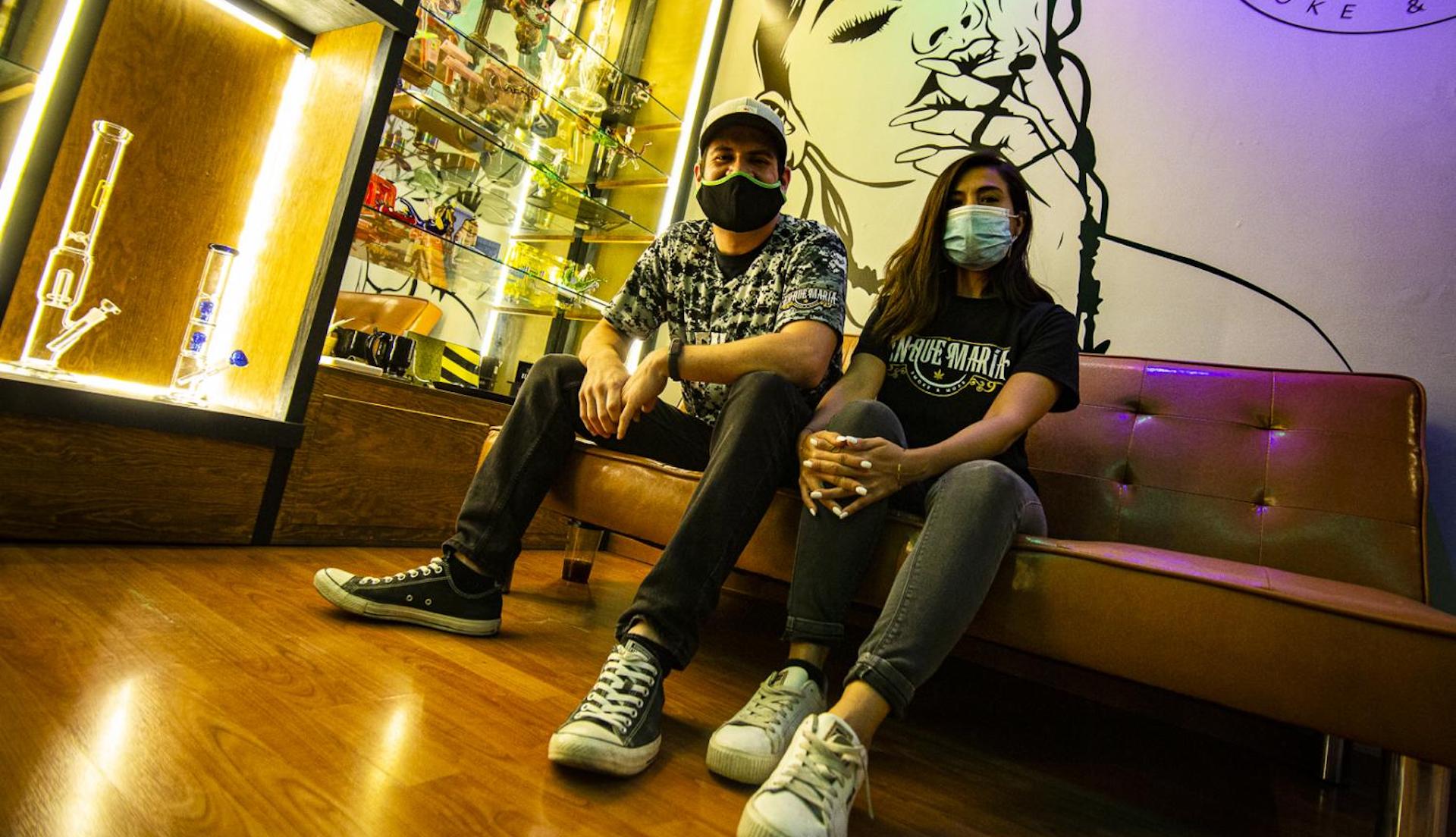 Alejandra Rosas and Javier Vivían are the co-owners of En Que María, a recently opened smoke shop in downtown Hermosillo.
Murphy Woodhouse/KJZZ
Just after dark on a recent Friday, Gabriela Plascencia and Pedro Castillo stepped into En Que María, a second-story smoke shop just off the rapidly developing, bar- and restaurant-lined Boulevard Hidalgo in downtown Hermosillo.
"What's up? What are you looking for?" co-owner Javier Vivían asked.
"A grinder," Plascencia said, referring to the tool used by marijuana smokers to break down pot into finer, easier to smoke pieces. From a display counter packed with rolling papers and other paraphernalia, Vivían pulled out a large, magnetic model they liked.
"Can I pay with a card?" Castillo asked.
But before settling up, Plascencia wanted to show her companion the store's sizable collection of artisanal pipes, bongs and bubblers.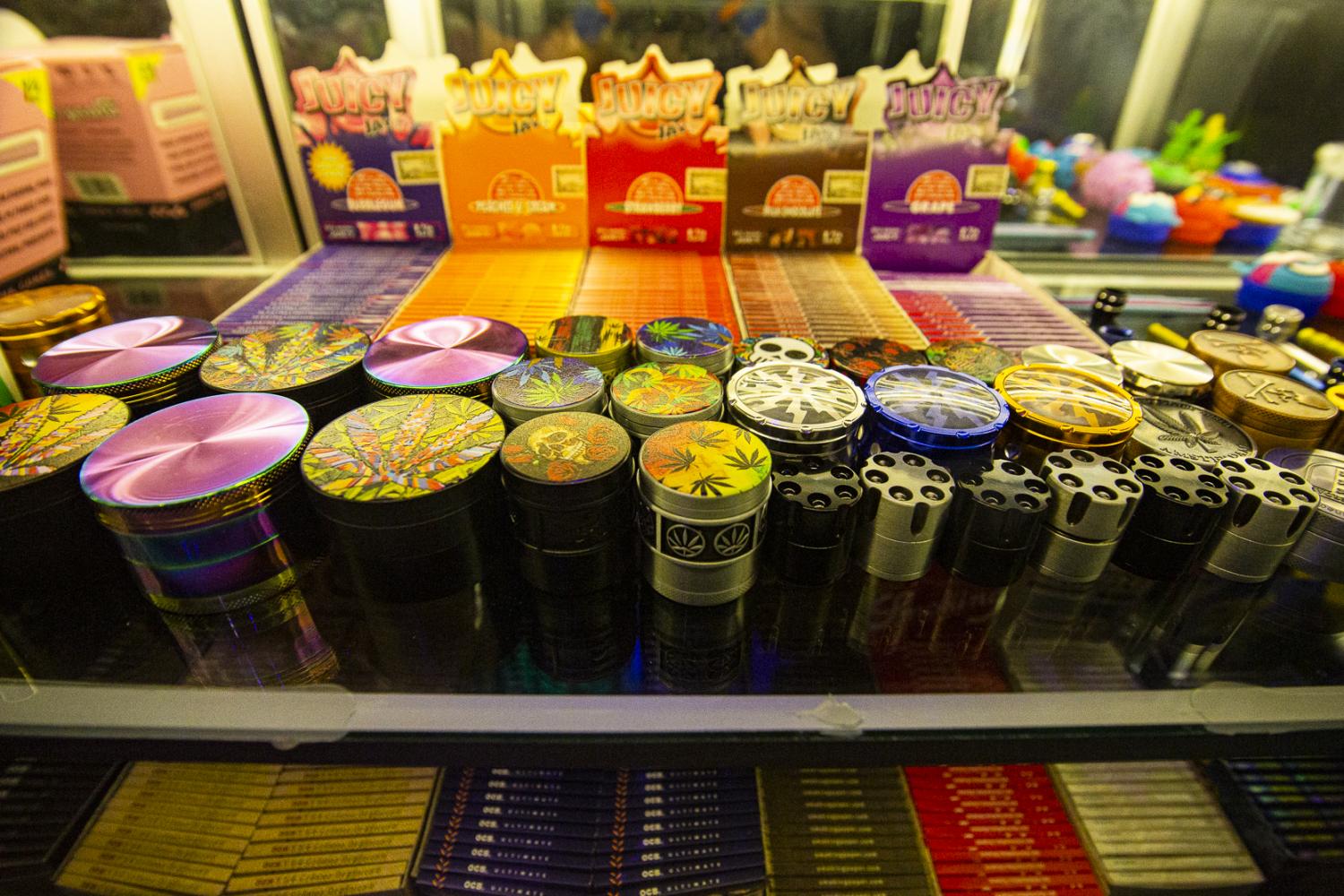 VIEW LARGER Rolling papers, grinders and other paraphernalia fill a display case at En Que María.

Murphy Woodhouse/KJZZ
They marveled at an intricate rooster-shaped bong, which shared shelf space with dozens of other eye-catching, mostly made-in-Mexico pieces: everything from hand-painted ceramic pipes crafted to resemble vibrant, mythical creatures known as alebrijes to — perhaps unsurprisingly — a pickle paying homage to the Adult Swim cartoon hit "Rick and Morty."
"You have coffee cups that are also bongs?" Castillo asked, almost incredulously.
"We have several different kinds," En Que María's other co-owner Alejandra Rosas responded.
But ultimately, it was a translucent pink flamingo that won Plascencia over.
'Sabiéndolo Acomodar'
Though just two small, adjoining rooms, En Que María is a surprisingly exhaustive resource for Hermosillo marijuana smokers.
"Muchas cosas caben en un jarrito sabiéndolo acomodar," Vivían said, riffing off a common refrain meaning that you can fit a lot into small spaces if you know how to organize.

But for the time being there's no legal space for marijuana itself at the store, though Vivían and his business partner and girlfriend Rosas hope that soon changes.
A Historic Day
In late June, Mexico's Supreme Court met in virtual session and, with an 8-3 vote, declared Mexican laws prohibiting recreational use of marijuana unconstitutional.
"Today is a historic day for freedom," Court President Arturo Zaldívar declared after the vote.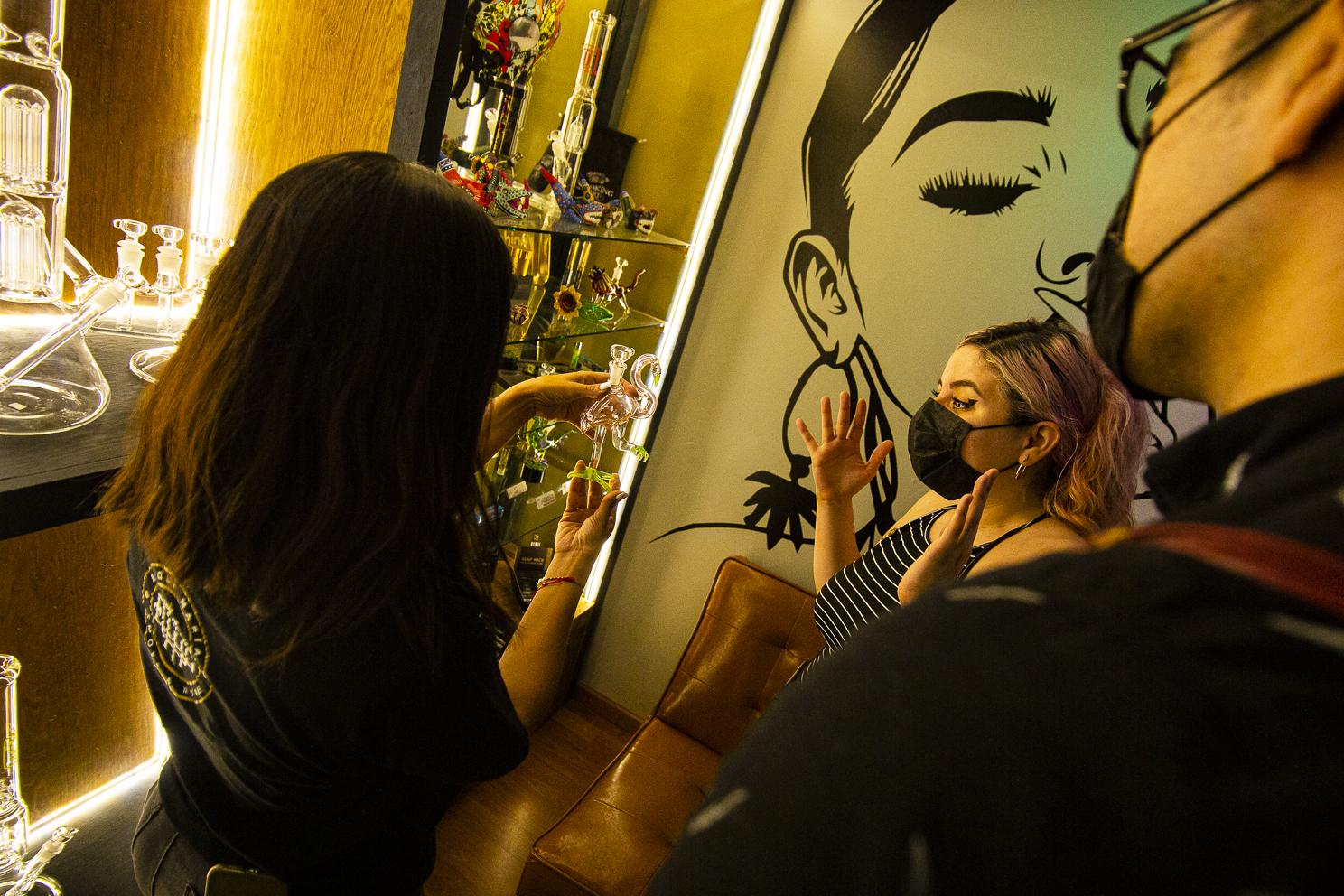 VIEW LARGER En Que Maria co-owner Alejandra Rosas shows Gabriela Plascencia and Pedro Castillo a flamingo bong.

Murphy Woodhouse/KJZZ
But the ruling's impacts fall far short of the broad legalization advocates have long demanded, and which the court itself has urged the national Legislature to undertake for several years.
"Uffffff, well yes, it's pretty complicated," said Julio Salazar, a senior attorney with Mexico United Against Crime, which advocates for legalization and has been involved in national marijuana litigation, when asked to describe pot's legal status after the court's decision.
The principal impact of the ruling is to make it easier for Mexicans to get a use permit from federal health authorities. But while the court ordered them to develop protocols for applicants to enjoy this now protected right, like seed acquisition, Salazar said a clear, legal means of acquiring marijuana has yet to be established.
The ruling also does not clear the way to legal marijuana sales, according to a court summary. National reform measures that would have done that failed earlier this year, just the latest instance of the Legislature failing to meet court-imposed deadlines.
"It's still not clear if that's going to be a priority issue," he said of the new Congress, set to start work next month.
Mexico's President Andrés Manuel López Obrador also raised doubts about the prospects, saying shortly after the ruling that he considered the selling of marijuana immoral. He also floated the possibility of trying to reverse the ruling's effects if they prove harmful.
Talking Taboos
For Rosas and Vivían, En Que Maria's co-owners, the slow pace of change has been frustrating.
"It's a fact that people consume marijuana," Rosas said. "It would be really cool to have those rules, something to regulate us, and give us the confidence of knowing what we're consuming."
As soon as a legal path opens, Rosas said she and Vivían "would love" to start selling. And they see their shop, one of several that have opened recently in Hermosillo, as a way to get a foot in the door of the lucrative market they believe will eventually come.
But they also see it as a place where customers and the simply curious can come and talk comfortably and candidly about marijuana, which Rosas said they try to foster with the very deliberate "chill" vibe of the store: nice lighting, comfortable seats, the just-right music volume.

They hope those sorts of conversations could start to weaken the taboos that exist around marijuana, especially in a state with a conservative reputation like Sonora.
The Flamingo Will Wait
In the end, Castillo and Plascencia just bought the grinder, along with some rolling papers. They were on foot, and worried the glass flamingo bong could get damaged.
"The flamingo will be waiting for you here," Vivían told them as they headed back out into the pleasant Hermosillo summer evening.
Down on the street, both said they hope legalization comes soon, and that users and the country as a whole would benefit.
"We're in a moment where we're transitioning," Plascencia said about attitudes in Mexico toward marijuana, a process she thinks stores like En Que Maria can push along. And she wishes them well.

Fronteras Desk
is a
KJZZ
project covering important stories in an expanse stretching from Northern Arizona deep into northwestern Mexico.