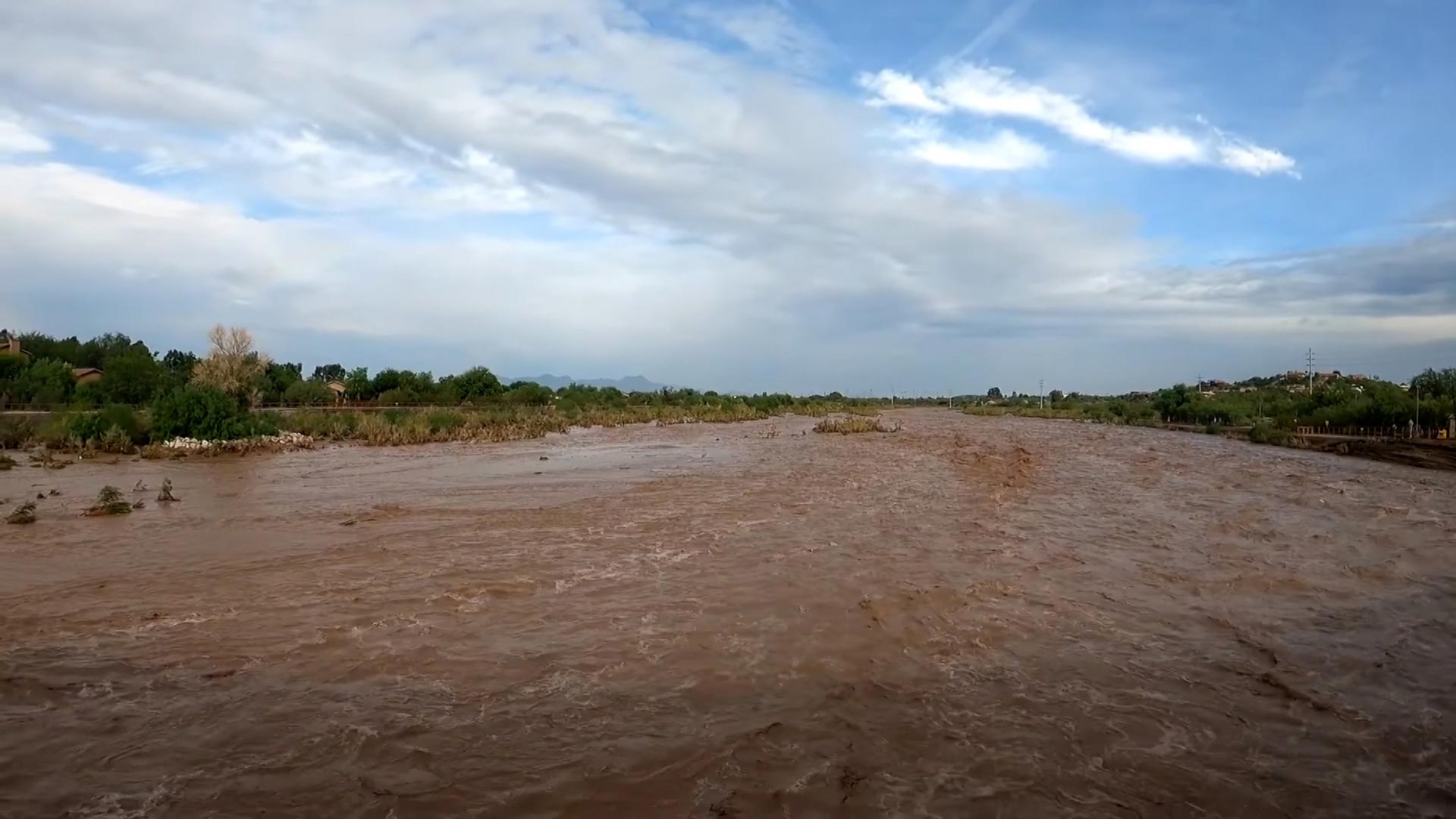 Waters from monsoon storms filled the Rillito River. July 2021.
Pima County
A federal judge struck down a Trump-era water regulation Monday that significantly restricted the number of waterways protected under federal regulations.

The Pascua Yaqui Tribe and Tohono O'odham Nation were part of the group of six federally recognized tribes who fought to reinstate broader definitions of 'waters of the United States.' Regaining protections affects more than 90% of waterways in Arizona, bringing back regulations for intermittent and ephemeral waterways, which only flow after rain or snow.
"The tribes are disproportionately impacted. They are the ones that face the brunt of the rollback of environmental protections," said Stuart Gillespie with Earthjustice who represented the tribes.
He said the Biden administration found serious issues with Trump administration's Navigable Waters Protection Rule, but it was still going to use it until they created their own rule.
"It's already been another 6-7 months, it could be another 6-7 months or even a year more that they would be applying the illegal Trump rule," he said. "And that's just unacceptable, so that's why we asked the court to vacate the rule."
Judge Rosemary Márquez of the Arizona district court agreed.
"The seriousness of the Agencies' [EPA and U.S. Army Corps of Engineers] errors in enacting the NWPR, the likelihood that the Agencies will alter the NWPR's definition of 'waters of the United States,' and the possibility of serious environmental harm if the NWPR remains in place upon remand, all weigh in favor of remand with vacatur," wrote Márquez.
Gillespie said the protections are there for quantity and quality, but also to protect sacred waterways, like the important seeps or springs for the Pascua Yaqui Tribe and Tohono O'odham Nation.
Pascua Yaqui Chairman Peter Yucupicio said he knows water in the desert is "better than gold."
"And this is just one more way of the tribes banding together and getting that powerful feeling that you can do something about it. Regardless, if it's somebody as high as the president and all that," said Yucupicio.
Both Yucupicio and Gillespie seem hopeful that the ruling will strengthen efforts to protect waters within the proposed Rosemont Mine site.
"This decision by the court rightfully vacates a grievous error. The Nation will continue working to ensure that these waters receive the protection that is due under the law," said Ned Norris Jr. in a press release from Earthjustice.
Note: This story was reported with help from Alex Hager of KUNC.
Order in Pascua Yaqui Tribe et al v EPA

View at Google Docs
|

Download File