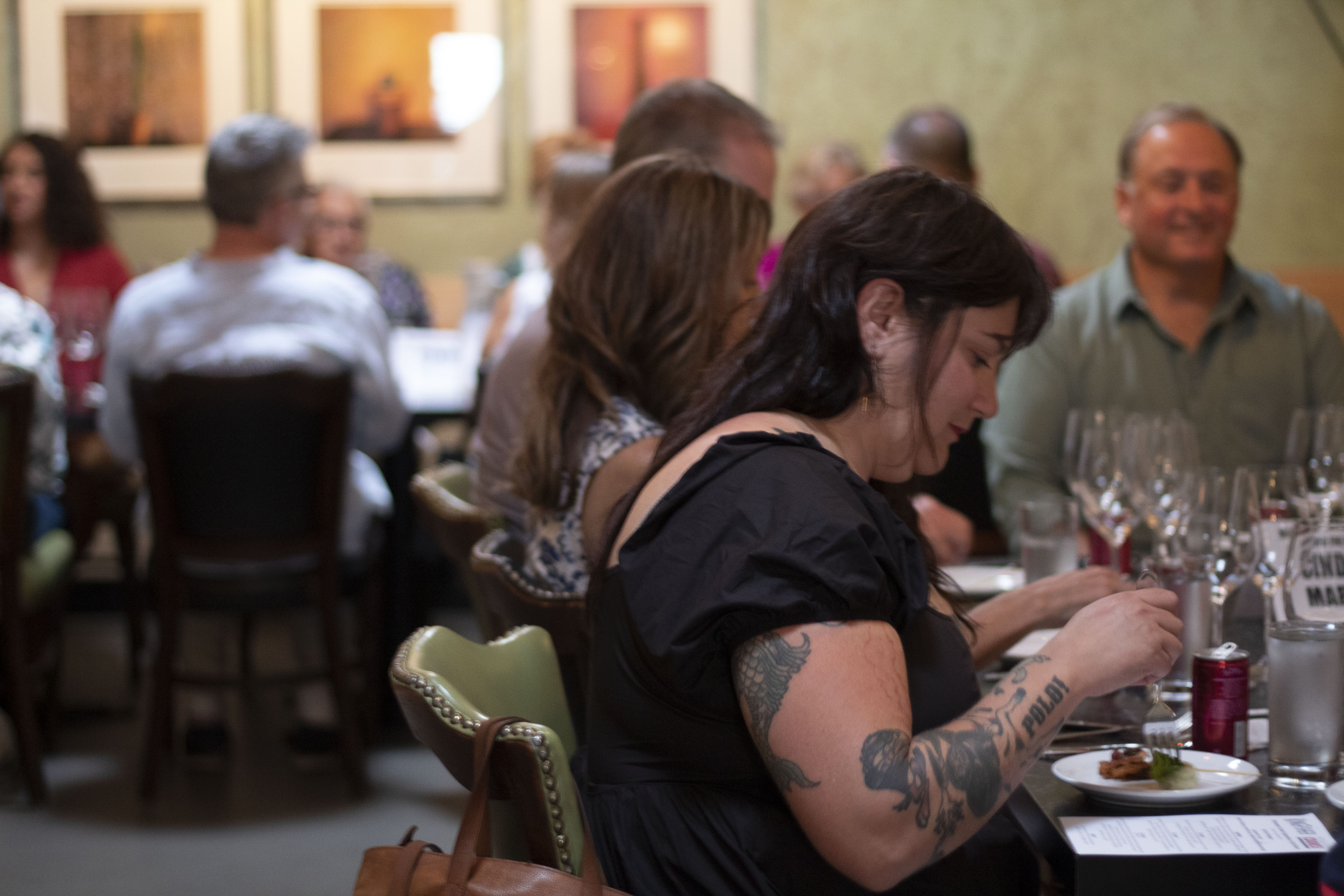 Donors eat in the socially distanced dining room of Kingfisher Bar and Grill at a fundraiser for the Primavera Foundation in August of 2021.
For organizations that provide housing services in Tucson, the pandemic has created a tough balancing act. As COVID-19 forced people to stay home, these groups replaced fundraisers with creative, online alternatives or direct requests for donations. While federal funds offset some of that burden, local organizations said the unprecedented demand is difficult to keep up with, and is likely about to get worse.
On a recent Sunday, Kingfisher Bar and Grill Owner Jim Murphy hosted a staff of amateur cooks. They were donors to the Primavera Foundation, a Tucson nonprofit that works to help provide affordable housing, and were participating in an annual event series, where local, professional chefs and restaurant owners take on a few lucky apprentices to put on a gourmet meal that more donors come to eat.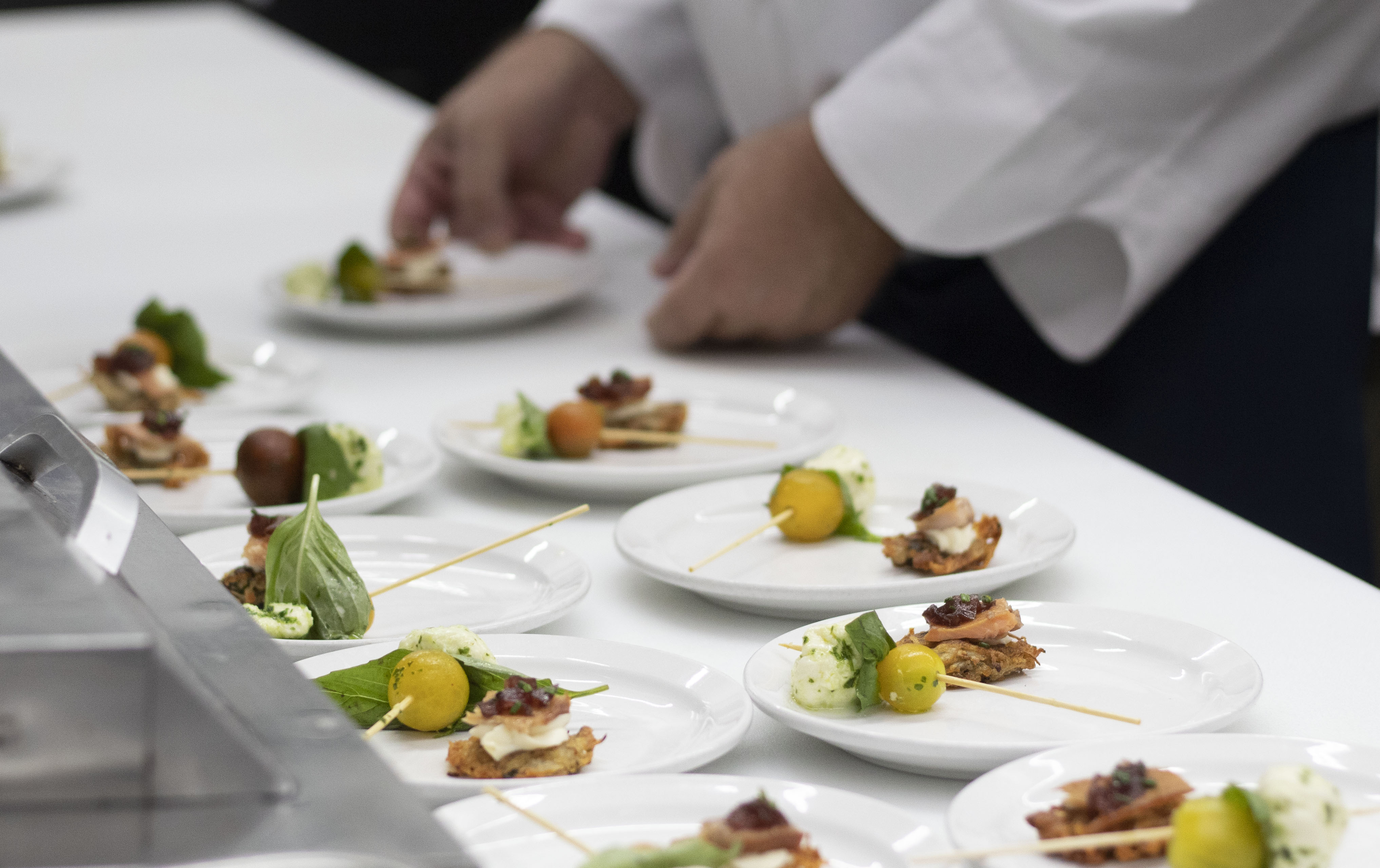 VIEW LARGER A cook plates hors d'oeuvres in August of 2021 at the Primavera Foundation's first in-person event since the COVID-19 pandemic began.
"They came in yesterday for about five hours. They've been here since eight this morning. And they cook the meal," Murphy said.
Primavera's Chief Philanthropy Officer JoAnn Salazar said this series of events normally brings in about $215,000 each year, but COVID threw a wrench into that. The organization was only able to hold one online event last year, as opposed to the ten in-person events it would normally put on. And this year, it has had to scale it back to four. That's as demand for its services is tenfold what it was pre-pandemic.
"It's been a challenge," Salazar said. "It's been a real unknown because so many people have been impacted by COVID by job losses and layoffs and illness and homeschooling.
At the same time, affordable housing is moving further out of reach for many in Tucson and across the country. Tucson home values have gone up nearly 27% in the last year, and rent for a two-bedroom apartment has increased about 14%.
Salazar said that while donors upped their gifts and government funding increased, the need for those funds still surpassed any increases. And, she said she expects the demand to get worse, after the U.S. Supreme Court's decision to end the CDC's eviction moratorium. According to the U.S. Census Bureau, nearly 140,000 Arizonans are currently facing housing insecurity.
"There is somewhat of a tsunami coming," Salazar said.
Meghan Heddings, the executive director for the Tucson nonprofit Family Housing Resources, said that after the housing market crash in 2008, Tucson saw a huge decline in production of new houses and apartments.
"We have not built that back up," Heddings said. "So now we're in a really vulnerable point of having very little built, and we've had a big influx of individuals moving to our community as well. So kind of a bit of a perfect storm, and then you add a pandemic on top of that."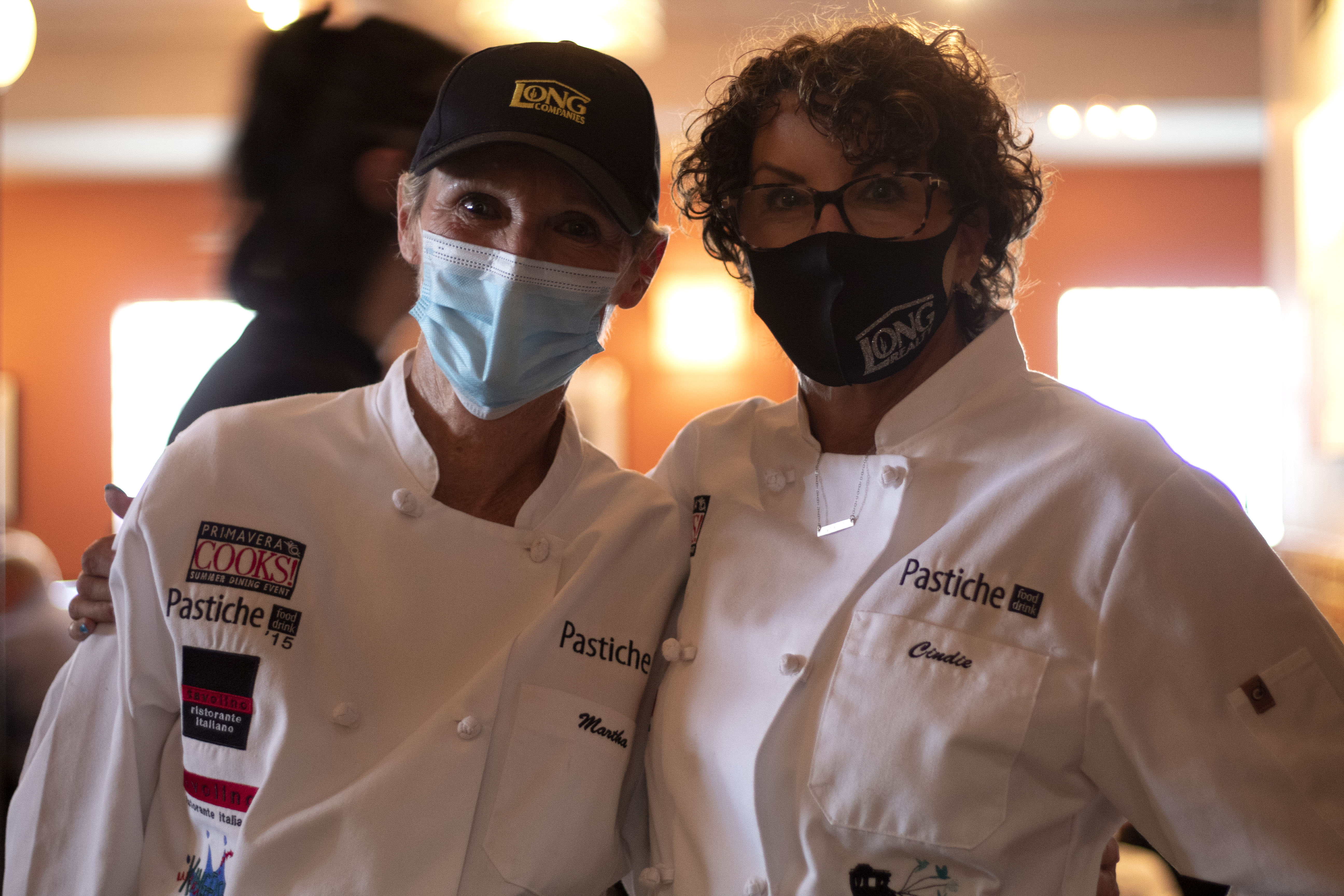 VIEW LARGER Martha Staten and Cindie Wolfe are agents with Long Reality and regular amateur cooks at the Primavera Foundation events. They normally come with five of their colleagues, but the group scaled back this year for the socially distanced event.
Heddings said that homelessness has increased during the pandemic, and she's concerned that will continue. She said once an individual has an eviction on their record, it becomes nearly impossible for them to be accepted into a new rental. She also said she's concerned for what will happen when the federal government winds down its pandemic relief efforts.
"Those emergency funds will end at some point in time. What does that mean for those employees? What does that mean for the work? Because it's not going to go away. It's just going to change," Heddings said.
At the restaurant, JoAnn Salazar from the Primavera Foundation said for now, she and her colleagues are masking up, social distancing and hoping for the best.
"If things get shut down, we would have to cancel or stop having the events until we could do it safely again. But we're excited to be able to do it safely right now," she said.
Still, she said, they'll have to continue getting creative to keep up with demand.