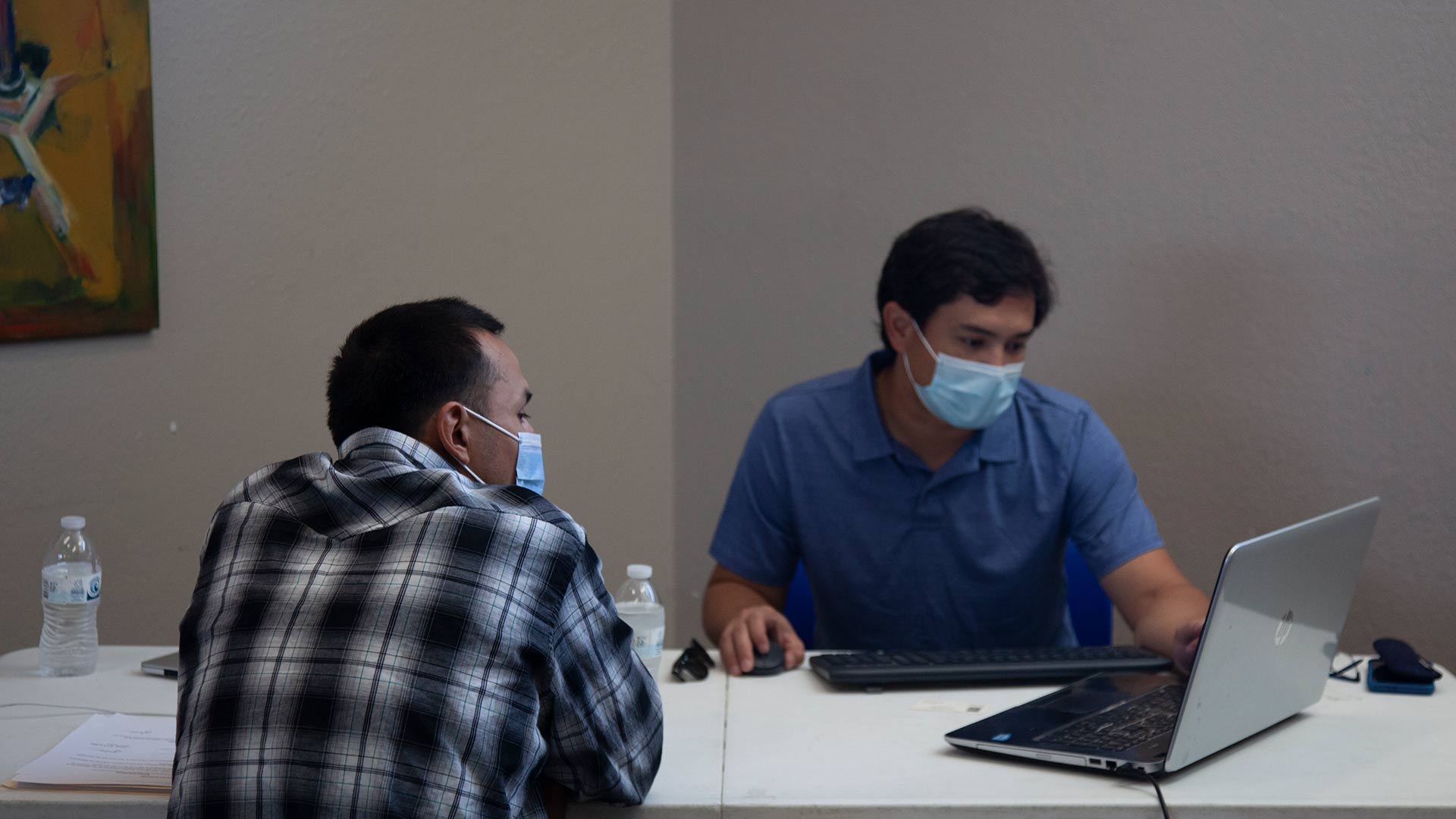 Joel talking with Sen Umeda, a lawyer volunteering with Arizona NORML, during an expungement clinic for low-level marijuana offenses July 31, 2021.
Emma Gibson/AZPM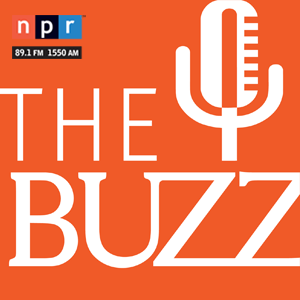 The Buzz
The Buzz for September 17, 2021

More than 10 years after Joel was first arrested for marijuana, he recounted the story of his high school transgression to a lawyer one more time.
"I was with my brother and my cousins," he told Sen Umeda, one of several attorneys volunteering at a legal clinic at the City of Tucson's Ward 6 office. "We were going to the nightclub, which was like 18 and older at the time. I just remember we were smoking in my car, and a cop rolled up on a bicycle, knocked on my window, and we were like, 'Oh heck! There's like a cop on a bicycle here.' That was the first time I got arrested for weed."
After about 20 minutes, Joel was on his way to potentially clearing that charge from his criminal record — wiping it away through a process called expungement made possible by Arizona voters last year when they passed Proposition 207.
The initiative legalized the recreational use of marijuana by adults age 21 and older.
And it allowed people previously arrested, charged or convicted, of low-level marijuana offenses to expunge those records.
We are not using Joel's last name for his privacy.
But he made the trip from Phoenix to Tucson for the clinic hosted by the Arizona chapter of NORML, the National Organization for the Reform of Marijuana Laws.
Julie Gunnigle, the director of politics with Arizona NORML and a former candidate for Maricopa County attorney, estimated there are about 250,000 to 500,000 people in the state who are eligible for expungements. That includes juvenile records and arrests, and offenses that were charged as higher class felonies.

She said if someone gives an exact number, they're lying.
Sometime the clinics are very popular, said Gunnigle, like one in Show Low earlier this summer. But other times, only a few people show up. She argued those slow clinics demonstrate that prosecuting agencies should be more proactive in finding cases to expunge.
"It has illustrated the folly of making expungement an opt-in process. This should have been universal and automatic," she said. "This should be work that our 15 county attorneys and our [attorney general] are doing entirely on their own."
Sixty-nine petitions for expungement had been filed within Pima County, according to the county attorney's office as of Tuesday.
The office said of those, 42 have received partial expungements, such as clearing the marijuana possession charge but not a charge for paraphernalia. And one petition has been denied, but the attorney's office is asking for reconsideration.
Gunnigle said some people are struggling to believe expungement is real or they've become accustomed to life with their charges on their record.
But others want their record cleaned, she said. They want to regain access to public benefits, student loans, housing, voting rights and more.
"We are still not reaching the most marginalized in our society and the most criminalized by the war on cannabis," she said.
In Joel's case, he said he's stressed about the felony and fines that became a criminal restitution order. Now when he gets his state tax return or if he sells his vehicle, the state applies a cut to his restitution balance.
"If they do get expunged, it's going to be a new life for me. That won't be on my record anymore," said Joel.
The American Civil Liberties Union reports Black people in Arizona are three times more likely to be arrested for marijuana possession than white Arizonas.
Zsa Zsa Simone Brown is with Acre 41, an organization led by Black women trying to educate people about equity issues in a variety of industries, including marijuana.
"We're what, three times more likely to be arrested for cannabis? However, we have no ownership in the space, so we are trying to find some equity in that," she said.
Proposition 207 does have a social equity component to it, setting aside 26 licenses for "individuals from communities disproportionately impacted by the enforcement of previous marijuana laws."
To Simone Brown that's Black and brown communities who are disproportionately arrested for marijuana offenses. But the Arizona Department of Health Service has four broader qualifications for those licenses and three of them need to be met to qualify. They look at household income, if people live in those communities disproportionately affected by past marijuana laws, if they've been negatively impacted by those laws via a relative's conviction and if they themselves have been adversely affected by those laws — like people qualifying for expungements.
For those interested in expungement, Arizona NORML has an online petition portal on its website, and for those curious about the social equity licenses, ADHS will accept applications in December.

The Buzz
airs Fridays at 8:30 a.m. and 6 p.m. and Saturdays at 3:30 p.m. on NPR 89.1. You can subscribe to our podcast on
iTunes
and NPR One. See more from
The Buzz
.