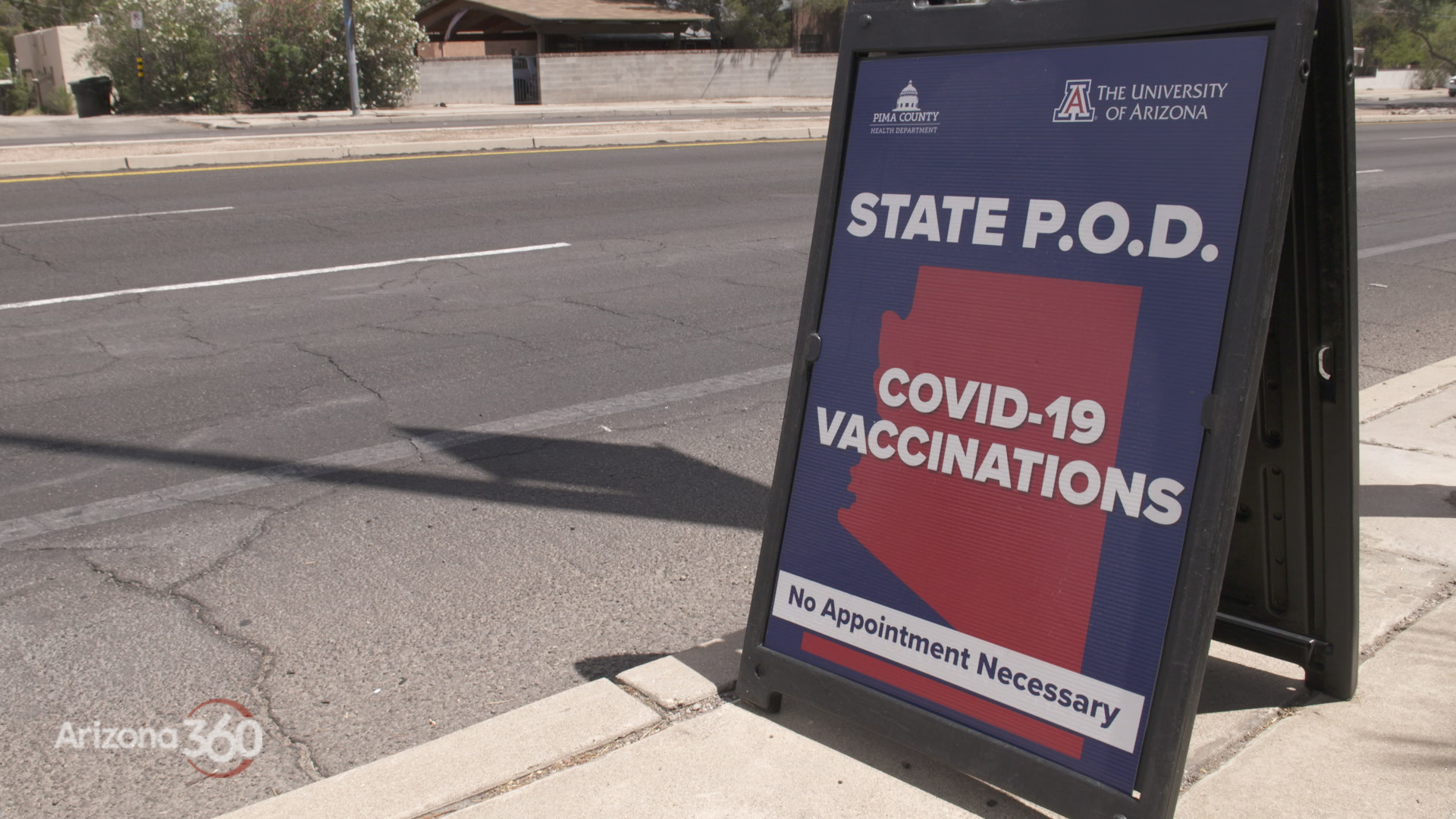 Sign advertising COVID-19 state vaccination pod at the University of Arizona.
AZPM staff
Pima County Supervisors will consider a proposal to encourage employees to get the COVID-19 vaccine, but they are reluctant to fire or suspend those who resist.
Tuesday morning, the Board of Supervisors directed County Administrator Chuck Huckelberry to draw up a rule to nudge more county workers to get vaccinated.

The move came after sheriff Chris Nanos testified about the devastating effect COVID is having in the Pima County jail, and on law enforcement in general.
"The number one killer of cops isn't guns. It's COVID," Nanos told the board.
Nanos told the board a 48-year-old jail inmate died of COVID recently despite being quarantined and testing negative. He says the only way the man could have contracted the virus is from a corrections officer. And Nanos called the jail a "petri dish" for the virus.
"The previous week we had two COs test positive. That Monday morning we had ten. The previous weeks we had five inmates positive, (this week) we had 25. Today we're at 40," he said.
The board has consistently rejected proposals to require masks or vaccinations among county workers or in schools, but board members gave Huckelberry the green light to draft a policy to reward those who get vaccinated, possibly by making their five percent annual raise contingent on it.

They'll review Huckelberry's proposal, and potentially vote on it, at their October 19 meeting.
Earlier the board voted down Supervisor Matt Heinz' proposal to require masks in all county schools, after chief medical officer Dr. Francisco Garcia said ten of the twelve district superintendents he spoke with would oppose such a mandate.
"This just kicks the hornet's nest, in terms of getting folks who are opposed to masking and opposed to anything, it gets them out in force again," Garcia said.