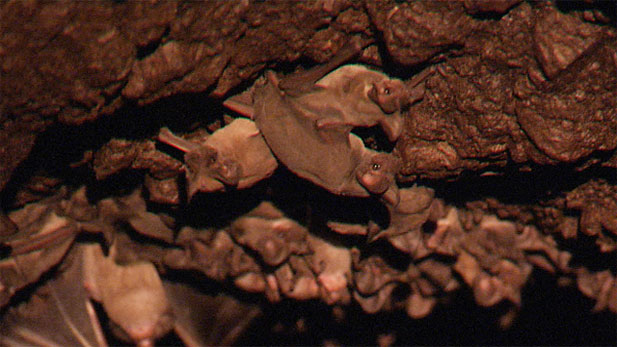 PHOTO: AZPM
Thousands of migratory bats reside under Tucson bridges during the summer months.
Tens of thousands of bats are making Tucson their home right now, but only for a little while to have their offspring.

This year is the fourth year for "Bat Night" in the city. The event is hosted by the Rillito River Project to welcome the bats that typically take up residence in Tucson between April and September.
"Bat Night is an event put on by artists and scientists together, and community, to view the bats that live under the Campbell Avenue Bridge and to call attention to the vanishing rivers of the Southwest, through arts, installations and performances," says Ellen Skotheim, creative director of the project.

"We used to have the event in the fall and this is the first time we're having the event in the spring. Because, in the fall the bats were leaving and then people couldn't watch the bats anymore. It was like the event and then they were gone. This time, we'll have the event in May and then people can watch the bats every night if they wish, all summer," she says.
One of Tucson's bat experts will be in attendance at Bat Night to talk about the creatures. Now retired from the University of Arizona, Yar Petryszyn once served as the curator of mammal collections at the school's Department of Ecology and Evolutionary Biology.
"I just checked (the flight) last Sunday and it's the most bats I've ever seen at that bridge at this time of year. I estimate over 40,000, which is double what normally would be there. Towards the end of the summer, each female has a young and so the number would double as the young fly out toward the end of the summer, early fall, so that population is growing," Petryszyn says.
Many people fear bats due to misinformation, movies and witch lore, he says, but the animals are in fact beneficial.
"A lot of the bats, a vast majority, eat insects, a tremendous number of insects per night. They can eat half their body weight each night. I estimated that just that one colony at the Campbell/Rillito bridge, during the time they're here…eat minimally from 60,000 to 90,000 pounds of insects during that period of time. That's an average of 700 to 900 pounds a night," Petryszyn says. "In Arizona itself, we have 28 different species. All but two species are insect feeders. We get both species of nectar feeders in the Tucson area."

You can learn more about bats Saturday, May 19, beginning at 6 p.m. in the Rillito riverbed east of the Campbell Avenue Bridge. Organizers ask that you bring a blanket, water and a flashlight.