FRED LAWRENCE WHIPPLE OBSERVATORY (FLWO)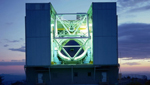 MMT Observatory
MMT 6.5-meter, VERITAS, Tillinghast 1.5-meter, 1.2-meter, 1.3-meter automated, MEARTH, Hungarian Automated Telescopes (HAT), 10-meter gamma-ray reflector.

KITT PEAK NATIONAL OBSERVATORY (KPNO)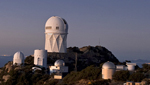 Kitt Peak
Mayall 4.0-meter, 2.1-meter, Coude Spectrograph 0.9-meter, 1.3-meter, 0.4-meter (for public viewing), WIYN 3.5-meter, WIYN 0.9-meter, Bok 2.3-meter, Spacewatch 1.8-meter, Spacewatch 0.9-meter, 2.4-meter Hiltner, 1.3-meter McGraw-Hill, 1.2-meter LSST, 0.9-meter SARA, MIT/NASA Explosive Transient Camera, RCT Consortium Telescope, WHAM Hydrogen Mapping, Super-LOTIS gamma-ray telescope, McMath-Pierce Solar Telescope, SOLIS Sun Telescope, Arizona Radio Observatory 12-meter dish, National Radio Astronomy Observatory VLBA dish.

LOWELL OBSERVATORY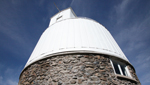 Pluto Discovery Telescope
Alvan Clark 0.6-meter, Pluto Discovery 0.3-meter, Sun Energy Telescope, Titan Monitoring Telescope, Perkins 1.8-meter, Hall 1.1-meter, NURO 31-inch, Navy Optical Interferometer (NOI), Discovery Channel 4.3-meter Telescope (DCT).

MT. GRAHAM INTERNATIONAL OBSERVATORY (MGIO)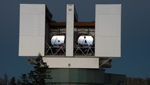 Large Binocular Telescope
Large Binocular Telescope (LBT) 8.4 x 2-meter, Vatican Advanced Technology 1.8-meter (VATT), Submilliteter Telescope (SMT) 10-meter dish.

MT. LEMMON SKY CENTER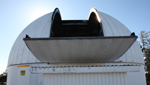 Schulman telescope.
Catalina Sky Survey 1.5-meter, University of Minnesota 1.5-meter, Steward Observatory 1.0-meter, Korean 1.0-meter, Schulman 0.8-meter, Jamieson 20-inch.

MT. BIGELOW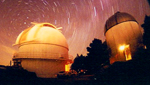 Mt. Bigelow
Kuiper 1.5-meter, Catalina Sky Survey Schmidt 0.6-meter.

U.S. NAVAL OBSERVATORY FLAGSTAFF STATION (NOFS)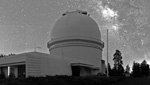 USNO Flagstaff
Kaj Strand 1.5-meter, Ritchey-Chretien 1.0-meter, Flagstaff Astrometric Scanning Transit Telescope (FASTT), modified 1.3-meter Ritchey-Chretien.
Visit the Collecting Light website for more stories, interviews, resources and images.