Jeronimo Cruz is part of the public outreach program at Kitt Peak National Observatory. Along with a team of others, he leads several dozen "astronomy tourists" on nightly viewing programs at the mountain-top observatory west of Tucson. First he gives an overview of his past - carefully noting that he is not a professional astronomer, but a mere amateur. He demonstrates finding objects in the night sky with a pair of binoculars, then leads the group outside to look for Jupiter.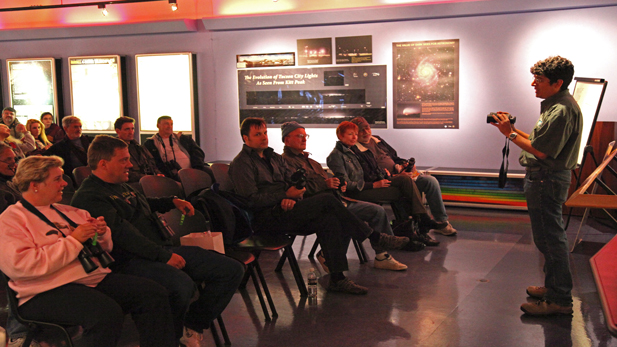 Jeronimo Cruz leading a public viewing program at the Kitt Peak visitor's center. (PHOTO: Mark Duggan)
Public programs like this are growing in popularity. The viewing programs at Kitt Peak and the Mt. Lemmon Sky Center northeast of Tucson are often booked months in advance. For many participants, its their first experience with a large telescope. And as they line up to peer through the eyepiece, their excitement is palpable.
Adam Block runs the viewing programs at the Sky Center. He guides participants through a six-hour program that includes both day and nighttime viewing through the 0.8-meter Schulman Telescope.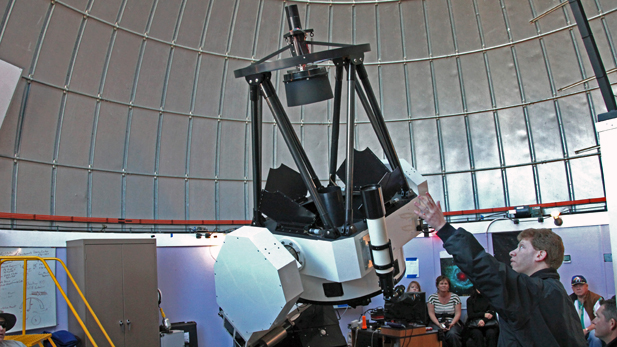 Adam Block invites his group to look skyward. (PHOTO: Mark Duggan)
Block recalls a childhood spent looking through telescopes - usually alone. It's what fuels his drive to share his love of astronomy with others. Block is a University of Arizona graduate, with a degree in astronomy and physics. But he decided early on to develop public outreach programs for astronomy, instead of spending a career as a research astronomer.
Like Kitt Peak, there's an electricity in the air as people look through eyepiece. Even the adults have wide, child-like expressions on their faces. It seems as if they're letting themselves forget about their world for just a moment, as they dream about the universe.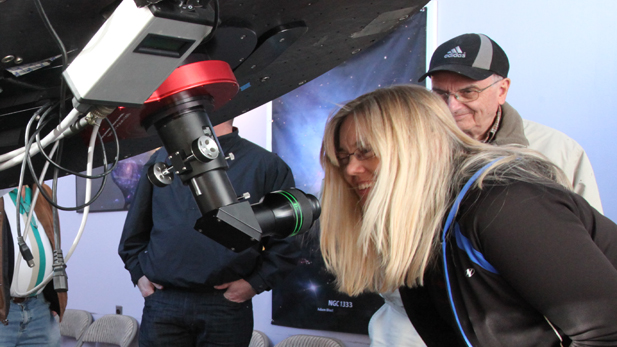 An "oh, wow!" moment at the telescope's eyepiece. (PHOTO: Mark Duggan)
To be sure, most of the telescopes in Arizona are dedicated to research, not public outreach. But the organizations that run them are increasingly letting the public in on the details, so everyone can share in the sense of wonder.
Visit the Collecting Light website for more stories, interviews, resources and images.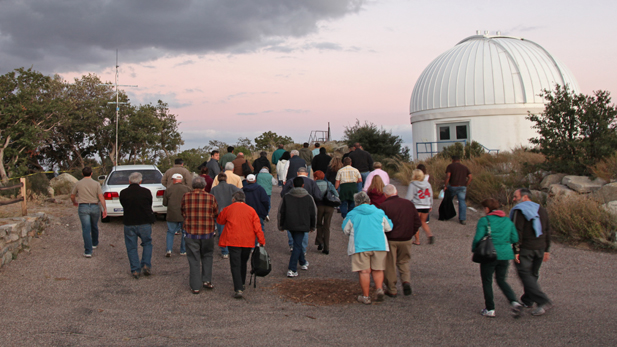 Participants in an evening viewing program maneuver to catch the sunset from the summit of Kitt Peak. (PHOTO: Mark Duggan)