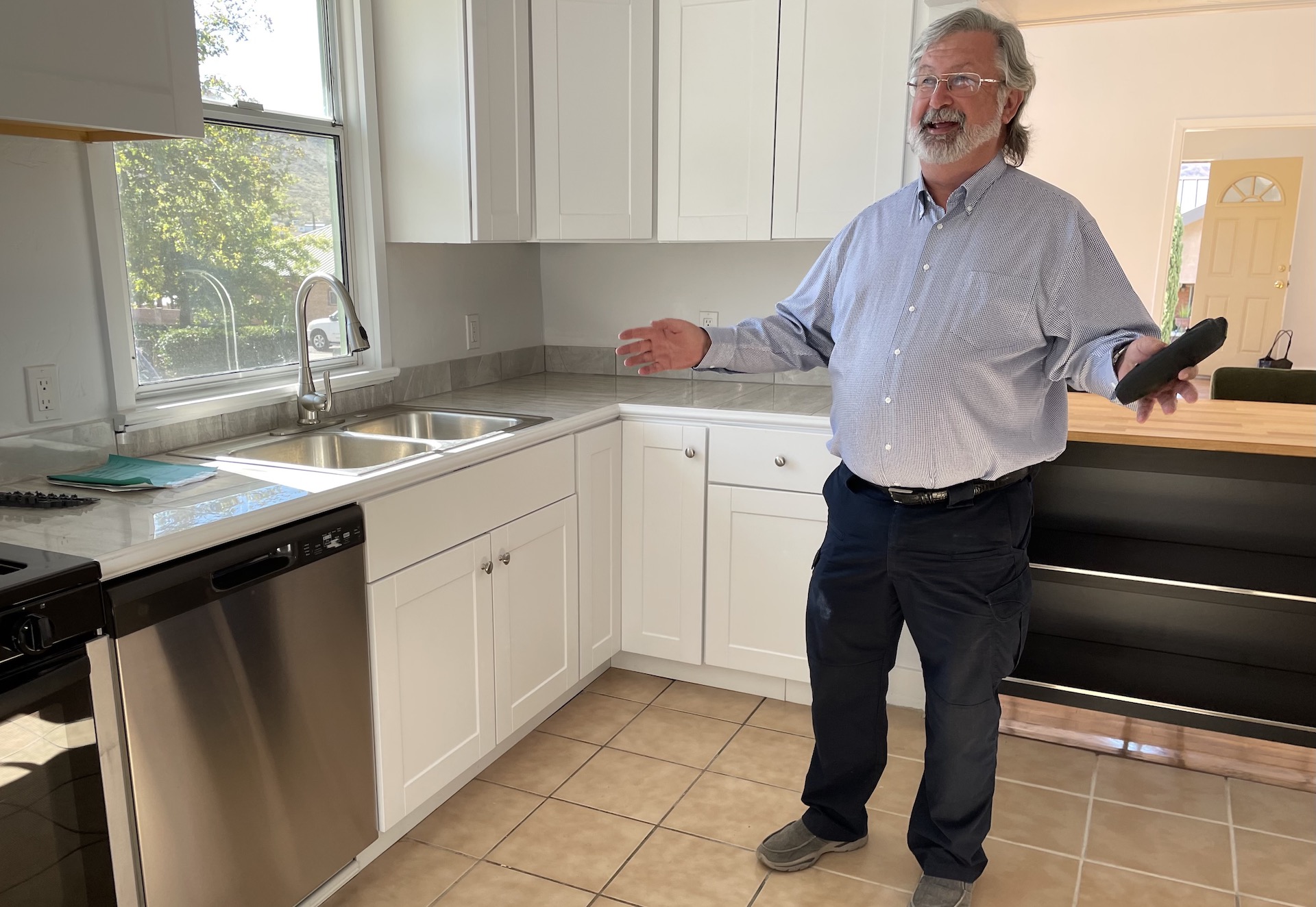 Bisbee City Manager Steve Pauken talks about the kitchen of a home newly renovated as part of a workforce housing program.
Megan Myscofski/AZPM
Attainable housing is difficult to build. It usually involves donations and funding from multiple levels of government. Building it in rural areas can add another layer of difficulty. One nonprofit in Bisbee is developing its own approach to creating attainable housing to keep government workers in town.
The house in front of Bisbee City Manager Steve Pauken was in bad shape just a couple years ago.
"It was a mess. A lot of damage, a lot of graffiti, boarded up windows," he said."
But it looks a lot different now because of a new workforce housing program that creates homes that city employees can not just afford, but will find comfortable enough to set down roots.
"What you see here in the front, the landscaping that's been put in? I mean, this was all just weeds," Pauken said.
Bisbee is experiencing the same tightness in the housing market that's playing out around the state, and it faces extra hurdles as a rural community.
The new program fixes up old houses and builds on unused lots, then offers the homes to Bisbee city employees at a 20% discount, along with training to get them through the process and other perks. Local contractors and volunteers do the work, and the program so far has received over $100,000 in grants from private donors, the Legacy Foundation and the local Rotary club.
"Bisbee was a boom bust town," said Danielle Bouchever, from Step Up Bisbee-Naco, the organization that rehabilitated the house.
This house stands mid-way up a hill in what used to be one of the most desirable neighborhoods in town, where mining executives lived. Many houses were abandoned after the copper mine closed.
Bouchever said the idea came from a HUD program that they knew wasn't likely to come to town.
This house is the second to be renovated, and the program has other projects in the works. It has been moving slowly because it hasn't been as easy for Bouchever and her team to acquire old houses as they expected, but she said it's picking up the pace.
"As it happens, word of mouth is working in our favor now," Bouchever said. "People know what we're up to."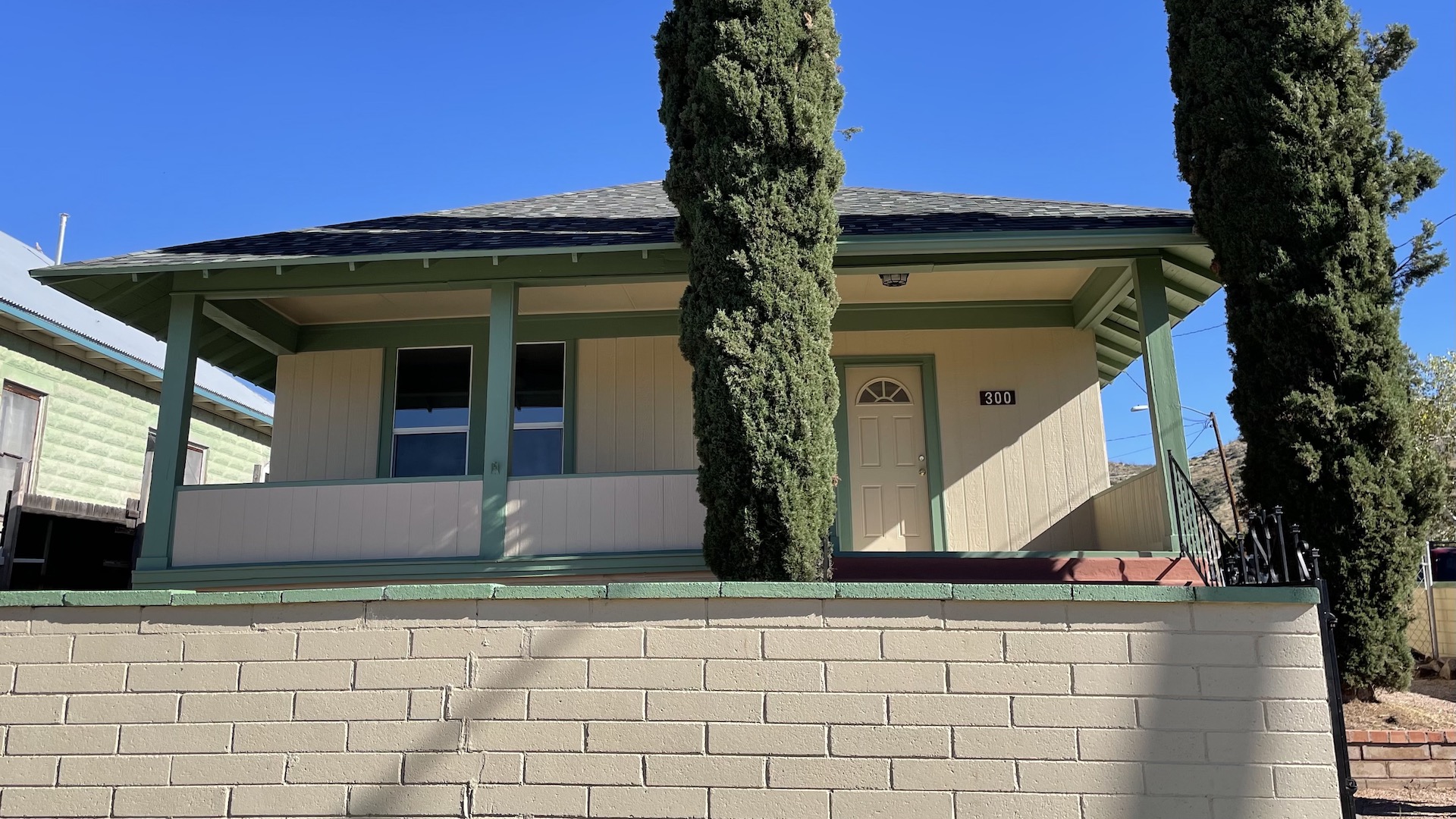 The nonprofit Step Up Bisbee-Naco recently renovated this house, as part of a program to create more workforce housing in Bisbee.
Megan Myscofski/AZPM
She said the current buyer is a hospital worker who would have left, if it weren't for this program. And she is hoping to connect with other rural communities to replicate the program or swap ideas.
Pauken said part of the difficulty of getting a project like this one off the ground is the location.
"Access to capital dwindles for each mile that you leave the big city. So, where a similar program in Tucson may have a large pool of access to capital, we're really dealing with our local resources here," he said.
The National Low Income Housing Coalition released a report in 2018 that said because rural projects tend to be smaller, they usually cost more per unit, and get passed over in favor of urban projects.
Marcos Ysmael, housing program manager in neighboring Pima County, said labor can cost more because workers often have to travel or stay overnight. Getting materials out to rural sites is usually more complicated, too.

"It's difficult attracting development to rural areas, because the market is slower and not seen as profitable to investors," he said.
Back at the house in Bisbee, Pauken looked around a newly remodeled kitchen with its original hardwood floor.
"The first time I walked in here. I mean, this was horrible, and what Step Up has done here is just nothing short of magnificent," Pauken said.
He said they have the program in place, and two well-stocked lumber stores. They just need the funds.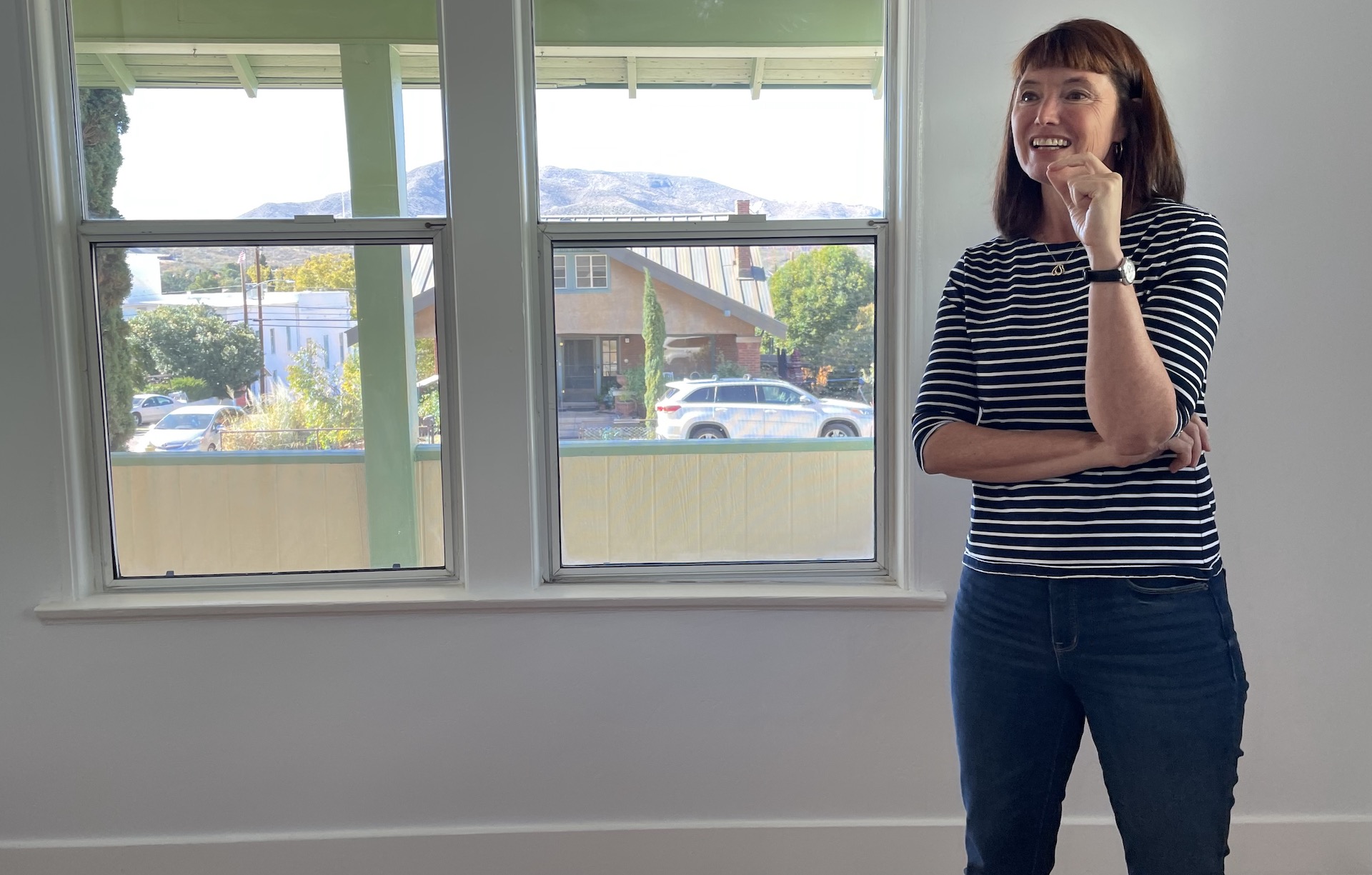 Danielle Bouchever of Step Up Bisbee-Naco gives a tour of the house the organization recently renovated for a city employee.
Megan Myscofski/AZPM