In part 2 of Collecting Light, we examine how Arizona became the epicenter for astronomy in North America. It's a highly condensed version, however. Dr. Thomas Fleming has the full story.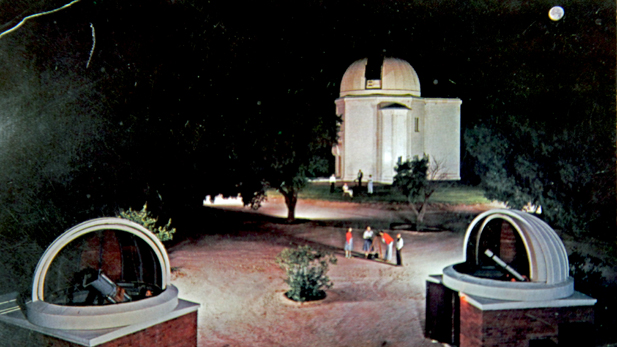 PHOTO: UA Libraries Special Collections
A picture postcard issued by the University of Arizona of Steward Observatory, 1955.
The Steward Observatory astronomer and lecturer has done extensive research into the history of Lowell, Steward and Kitt Peak Observatories. He says climate is probably the main reason astronomy became big in Arizona. But a colorful cast of characters helped, as well.
Fleming tells the stories of Percival Lowell, A.E. Douglass, Aden Meinel, Bart Bok and others. We learn why Lowell and Douglass had a falling out and why Steward Observatory was named after a rich Tucson widow. Fleming also explains how the founders of Kitt Peak National Observatory convinced the tribal elders of the Tohono O'odham Nation to allow telescopes on a sacred mountain on their reservation.
Visit the Collecting Light website for more stories, interviews, resources and images.