The Pima County Public Library is kicking off its annual summer reading program Thursday, the first day of summer vacation for many of Tucson's schoolchildren.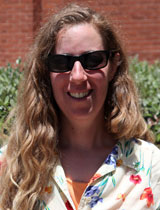 PHOTO: Robert Rappaport
Karen Greene is Adult Services Librarian for the Pima County Public Library
The theme is a bit different than in years past, as all libraries in the state are collaborating for "Our State: Our Story: Celebrating 100 years of Arizona."
"This is for kids, for teens and for adults," says Karen Greene, the system,'s adult services librarian. "Once you have achieved that reading goal, you come to the library.
"If you're a kid, you're going to get a book. If you're a teen, you're going to get a gift certificate to Bookmans, and if you're an adult, you're going to get a book bag."
In addition, participants will be challenged with completing six of 100 activities, Greene says.
Signup for the summer reading programs is available at any county library branch.