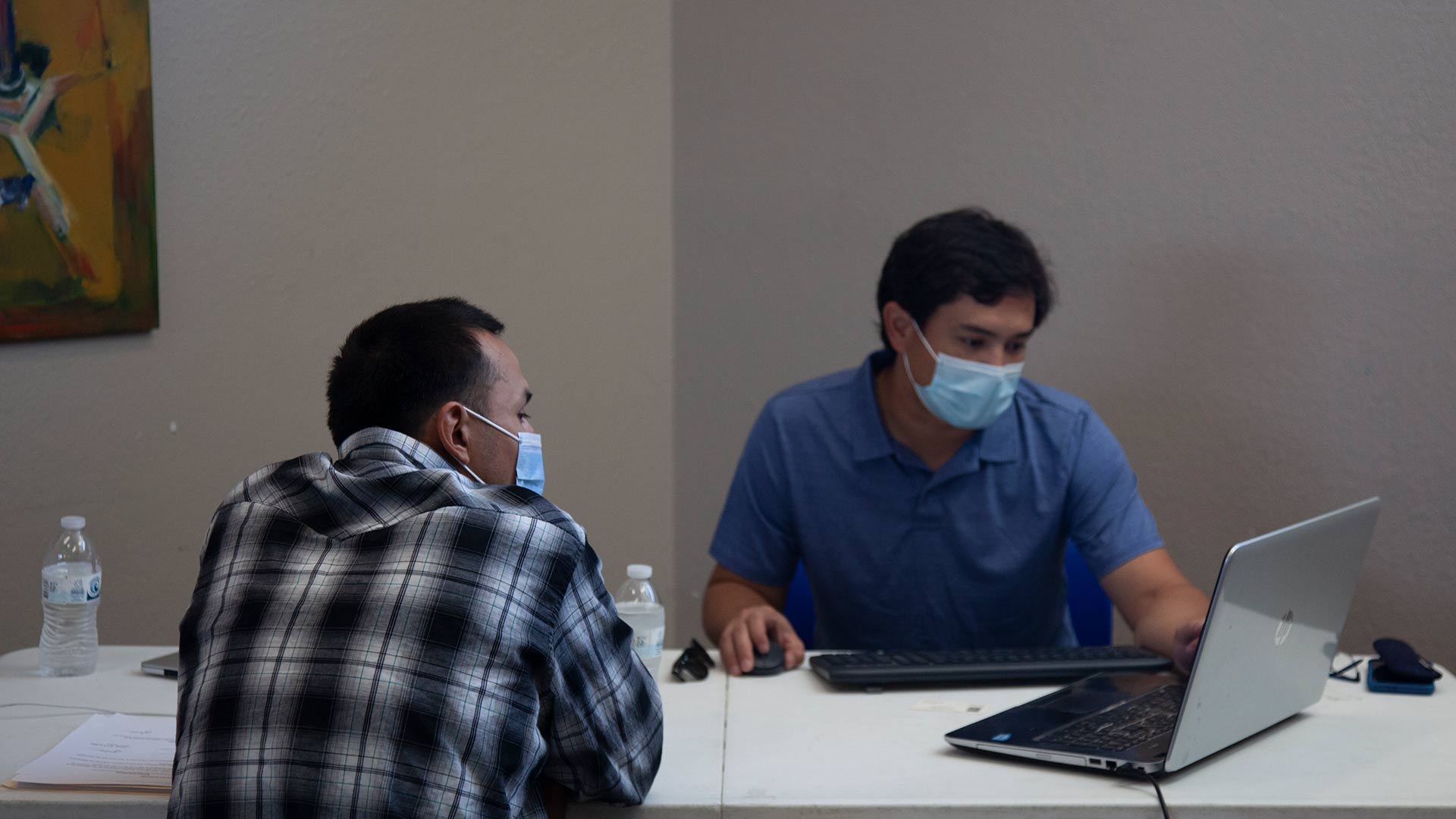 Joel talking with Sen Umeda, a lawyer volunteering with Arizona NORML, during an expungement clinic for low-level marijuana offenses July 31, 2021.
Emma Gibson/AZPM
It was not long after Arizonans could start filing to expunge past marijuana arrests and convictions in July that lawyer Sarah Mayhew began to see some cases bogged down in court.
"We really were expecting expungements would be something that would be organized and occur very quickly. We weren't expecting to have to relitigate every single case," said Mayhew, an attorney at the Pima County Public Defender's Office and secretary of the group Arizona Attorneys for Criminal Justice.
Proposition 207 allows people to seal criminal records in certain cases, such as if they were charged with possession of 2.5 ounces or less of marijuana, six plants or less or certain paraphernalia.
But Mayhew said some expungements have run into obstacles despite approval from prosecutors, such as when the charge is solicitation of marijuana rather than possession.
In some cases, judges are demanding to know the exact weight of the marijuana involved, even if it is unclear from court records, she said.
"The idea that here we've got the Pima County prosecutor recommending expungement and the court saying no, we're not going to honor your prosecutorial discretion — that's very concerning and it's certainly not at all what we were expecting to happen," she said.
Pima County Superior Court Judge Danelle Liwski said judges may want some indication that a case qualifies.
"Sometimes there's a police report or information provided because the weight of the drugs was listed in the police report or in a lab report," she said.
But Julie Gunnigle, at the Arizona chapter of the National Organization for the Reform of Marijuana Laws, said some courts are not keeping with the law voters approved last year.
If a person applies to expunge a qualifying marijuana-related offense, it is up to prosecutors to show why the request should not be granted. Instead, courts have turned the tables on some applicants, Gunnigle argued
"We've expunged cases clear back to 1970. Finding some of these documents or even being able to call the officer and be like, 'do you remember how many plants' — no, it's not a possibility," she said. "And I think the drafters of 207 understood that and that's why the burden shifting is what it is. Unless the state can show that you're ineligible, it really ought to be that the expungement is granted."
Mayhew said she is concerned people filing for expungement in Pima County are being treated differently than applicants elsewhere.
Maricopa County Superior Court granted more than 8,100 petitions for expungement between July and mid-November and denied about 60. About 350 cases were pending as of last week.
Pima County Superior Court received 48 petitions for expungement from July through October. Half of those were granted and five were denied. Court records show half of the cases filed in Pima County Superior Court were pending at the end of October.
But Liwski said marijuana possession cases were less likely to land in superior court in Pima County.
Meanwhile, Pima County Justice Court received 68 petitions during that time and 55 were granted. The remaining seven were pending at the end of October.
"The process is going slower — more slowly, I think, than anyone would like," said Jack Chin, senior counsel at the Pima County Attorney's Office.
He said it's not surprising there is ambiguity in how to interpret a brand new law.
But he said the Pima County Attorney's Office has identified about 1,400 misdemeanor marijuana cases. Each should be eligible for expungement in principle, he said.
And he wants the court system to streamline the process by allowing attorneys to file once to expunge multiple cases, instead of filing for each expungement separately.
Liwski, the superior court judge, said that might make the process more difficult given that cases may involve very different charges and very different law enforcement agencies.
"If we do a mass order, it's going to be very difficult to make sure that individual's right to have their case expunged is actually taken care of," she said. "If you want to make sure individual rights are protected, they need to be filed individually."
But Chin said the time it takes to get an expungement can make the difference for someone applying for a job or looking for a place to live.
"And if we have to do them on an individual case by case basis with an individual motion filed and an individual response and an individual analysis by the court, it's going to be like emptying out the Pacific Ocean with a teaspoon," he said.