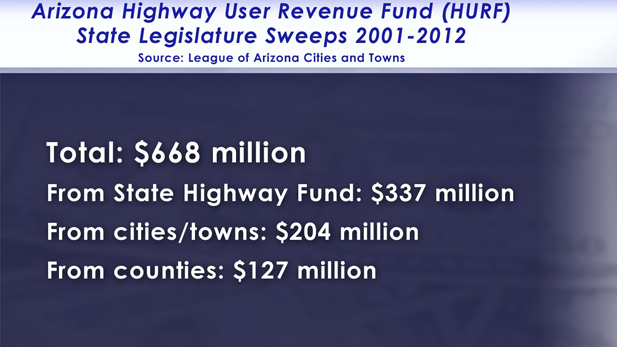 PHOTO: Robert Jaime, AZPM
Arizona's Highway User Revenue Fund was meant for road, street work. But the Legislature has taken money from it over the years for other uses.
State and local governments in Arizona cannot keep up with road maintenance under current funding mechanisms, and that means state roads and streets will "get worse before they get better," says a municipal government advocate.
"I think it's fair to say that (street and road conditions are) tolerable for the moment," says Ken Strobeck, executive director of the League of Arizona Cities and Towns. "But the delay and deference of maintenance is something we're going to have to face in the future. We're likely going to see road conditions get worse before they get better."
The state Legislature's "sweep" of hundreds of millions of dollars in money intended for road and street building and maintenance plus the soft economy have contributed to deteriorating conditions for streets and roads, Strobeck says.
"Streets and roads are one of those basic essential services and one that certainly commands a lot of our municipal budgets and is very high priority for our citizens," Strobeck says. "But it's been tough in the downturn of the economy with local revenues going down as well as sweeps of the HURF funds from the state."
HURF refers to the Arizona Highway User Revenue Fund, a dedicated state fund for tax revenues collected from gasoline sales, commercial truck conveyance and vehicle licensing and registration. The fund will generate a little more than $1.2 billion this fiscal year.
But a good share of that is being swept for purposes other than road and street maintenance, and Strobeck said such diversions in the last decade have cost road maintenance dearly.
In the last 10 years, legislative sweeps of HURF money have totaled $668 million, according to figures from the League of Arizona Cities and Towns. Included were $337 million from the State Highway Fund, $204 million from cities and towns and $127 million from counties, the league's figures show.
Much of the diversion went to operate the Department of Public Safety, but some was used to operate the state Motor Vehicle Division, which licenses vehicles and drivers.
The diverted funds have "created a lot of delay in what people can do with their road maintenance programs," Strobeck says. "In general, the response because of the HURF sweeps and declines in local revenues has been to just simply delay those things."