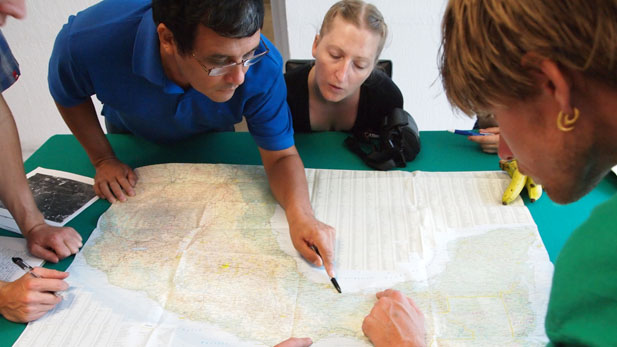 PHOTO: Emily Coyle
Officials with the International Organization for Migration (IOM) in Mexico tell University of Arizona graduate students about the latest migrant routes from Central and South America and the dangers migrants encounter.
Graduate students from the University of Arizona's Zuckerman College of Public Health, and from the College of Architecture and Landscape Architecture have just returned from a trip to the Mexican border with Guatemala to see how issues of public health play a role in migration there.
Just like along Mexico's northern border with the U.S., migrants travel from Central America across the border into Mexico for work. Zandra Alford, one of the graduate students on the trip, says it's tied to another the students took.
"We had actually just come back from a trip earlier this year in the Mexican-U.S. border in Douglas-Agua Prieta," Alford says. "So we were hoping to see similarities in health and also root causes of migration and how that affects migration, the affects it was having on health of the people in that area."
Another of the University of Arizona public health graduate students who also went on the trip, Emily Coyle, says they learned that the borders aren't so different.
"It was pretty interesting to see that a lot of the issues are very similar to what we see at the U.S.-Mexico border, some common themes. One of the things we looked at was the importance of economics on migration, and it's important to remember that migration doesn't just happen from Mexico to the U.S. There's also migration happening from South America, Central America, up into Mexico," Coyle says.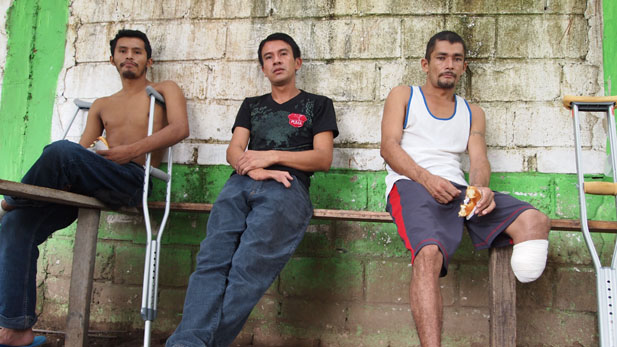 PHOTO: Emily Coyle
Honduran migrants recuperate at a migrant shelter in Tapachula, Mexico after having suffered injuries along the route to Mexico.
Some of the issues along Mexico's northern and southern borders include health concerns, but Coyle says there are also differences at Mexico's two borders.
"For example, if people are migrating from Guatemala to Mexico to work on the coffee farms, they're going right back to Guatemala after a few months, and coming back and forth," she says.
These two students, along with the others who went to the Guatemala-Mexico border in May, were part of a service learning course. That means they were working with the community, not just studying it.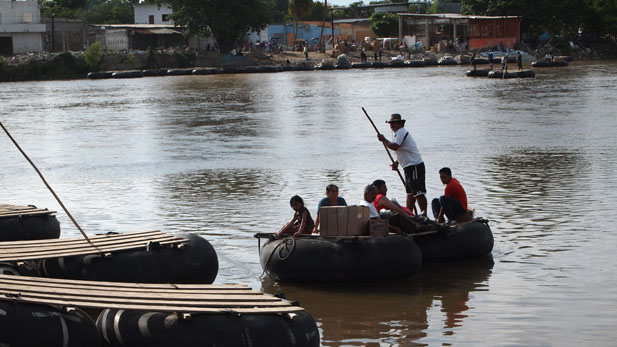 PHOTO: Emily Coyle
Along the Mexican border with Guatemala.
"We definitely did a lot of interviews with migrants with people in the communities we were visiting as well as different organizations down there. One organization we worked a lot the International Organization for Migration. We worked with them on both the Mexican side of the border as well as the Guatemalan side," Alford says.
But the trip was a give and take.
"Taking our knowledge of the border up here and sharing it with them and also receiving information from them about what's happening, what they're seeing on their border specifically," Alford says.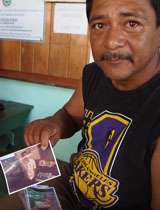 PHOTO: Emily Coyle
A Guatemalan migrant is trying to get home to reunite with his family, after traveling north to work across the border in Southern Mexico.
While on the Mexico-Guatemala border, the students also stayed with migrant families to get a first-hand look at their lives. Family separation is a critical issue for migrants, and can impact health issues, Coyle says.
"A lot of the migrants that we met at the migrant shelters were trying to reunite with families and there was one picture one man who really spoke to me he's holding a picture of his son," Coyle says. "He wasn't sure he could make the journey because of health."
While there may be a perception among some people that border communities are divided, the students say health issues cross the governmental borders. Migration and health go hand in hand, Coyle says, because people may be less likely to seek health services when they're traveling for work, legally or illegally.
"At both borders the populations are vulnerable because they're kind of under the radar," Coyle says. "They may not be traveling legally in many cases and so they may not be seeking out services for fear, in both countries, in Mexico and up in the northern borders."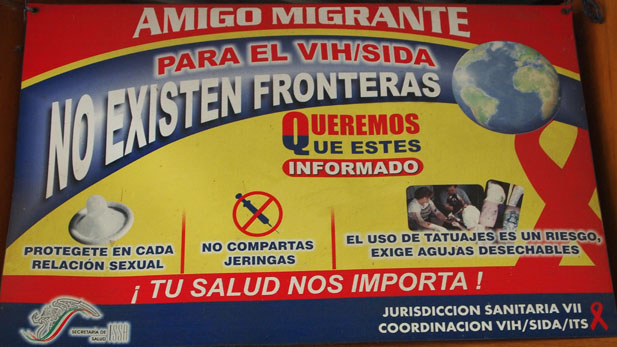 PHOTO: Emily Coyle
A sign advises people along the Mexico-Guatemala border to take precautions to protect their health.
Coyle and Alford say migration can also be a benefit to a community.
They saw evidence of this at a coffee cooperative on Mexico's southern border. The company allows local farmers to sell coffee for a fair price, which reduces the need for the farmers to migrate north for other jobs.
The cooperative has also resulted in a clean water system there, reducing disease in the community.