The 2012 season for Arizona Wildcats Baseball has been historic. It's been one of the most successful ever, and not just on the ball field. More than 86,000 people attended games this year, double last year's totals. Interest in the team is growing, especially since they're ranked #1, with a 20-10 record in the Pac-12 and 38-17 overall. And they're hosting NCAA Regional games for the first time in nearly 20 years.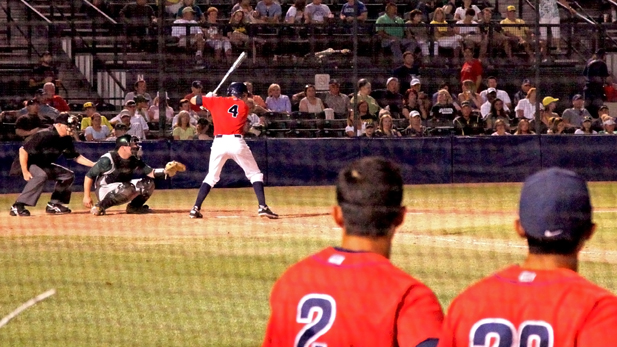 PHOTO: Mark Duggan
Trent Gilbert at bat late in a game against Oregon at Hi-Corbett field.
A big reason for this year's crowds is the team's move to the city-owned Hi-Corbett Field Field, from the smaller Sancet Stadium on campus. Hi-Corbett, which opened in 1937, is popular with many Tucsonans. The ball field also has a rich history, as a number of baseball greats have played on its field. Coach Andy Lopez says he can feel that history, even if he's not sure his players do.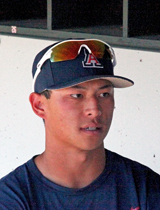 PHOTO: Mark Duggan
Right fielder Robert Refsnyder fields questions at practice.
Right-fielder Robert Refsnyder is one player who is very aware of that history. He recalls the team being shown a video at the beginning of this season that illustrated the big names that have played at Hi-Corbett. One he remembers, in particular, is DiMaggio. Refnsyder even admits he got goose-bumps the first time he played on the storied ball field.
Refsnyder admits that it took the team a little while to get used to playing at Hi-Corbett. It's dimensions are similar to that of Kindall Field at Sancet, but a blaring afternoon sun can make play a little difficult. It's also a good field for line drives, which can come frequently in a game that still uses aluminum bats. Refsnyder has taken advantage of that, hitting .359 this year with 6 home runs. He could be picked up in the Major League Baseball draft next week. But right now the thing that looms large for this young man is playing in the regionals this weekend, with his parents cheering from the stands.
University of Arizona Athletic Director Greg Byrne, who made the decision to move the team to Hi-Corbett, is happy with the response. Ticket sales, attendance and interest in the game are all up. So are concessions. The UA is selling beer at Hi-Corbett Field, something they never did at Sancet.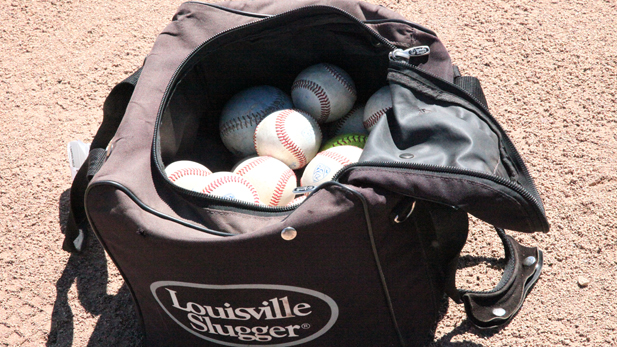 Baseballs await practice at Hi-Corbett Field.
Top-seeded Arizona begins NCAA regional play today at 8pm tonight, taking on #4 seed Missouri (32-26, 10-14 in the Big 12) at Hi-Corbett Field. The winner goes on to the Super Regionals June 8-10, at a yet undisclosed location. The College World Series is in Omaha June 15-26.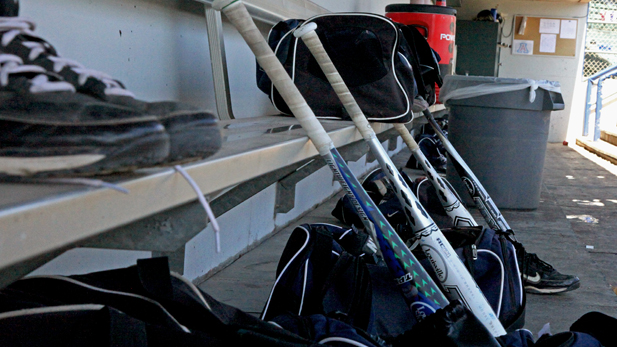 PHOTO: Mark Duggan
In the dugout at Hi-Corbett Field.