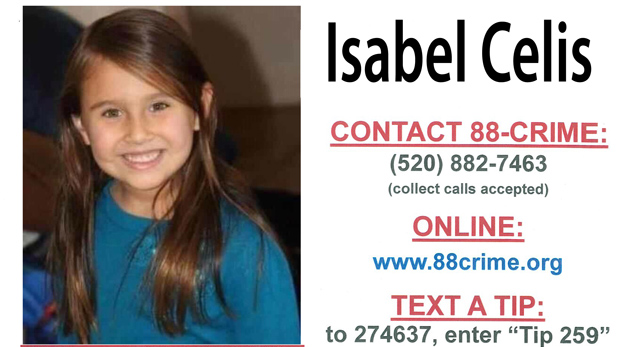 Part of a "missing girl" poster for Isabel Celis from 88-CRIME. (PHOTO: 88-CRIME)
Six weeks have passed since 6-year-old Isabel Celis was reported missing from her Tucson home and police have released few details on the case lately. Tucson Police Chief Roberto Villaseñor says despite the lack of information to the public, officers and investigators continue working on the case.
"Right now we're at a point where we are following investigative paths that keep us quite busy," Villaseñor says. "We think that this was an abduction of some kind, so obviously that infers that there are suspects that we are looking at, or people of interest that we're looking at."
Villaseñor did not reveal who those suspects are. Rebecca and Sergio Celis, the missing girl's parents, have not been ruled out as suspects in her disappearance.
Isabel Celis was reported missing the morning of April 21, when police say her father woke up to find her bedroom empty. Investigators collected samples of what appeared to be blood on the missing girl's bedroom floor and on other items, and Villaseñor says TPD is doing forensic tests on those items.
Last month, Child Protective Services asked the missing girl's father, Sergio, to stay away from his two other children, Isabel's older brothers. Details of why he has been separated from his sons are unknown, but Villasenor says those restrictions remain the same.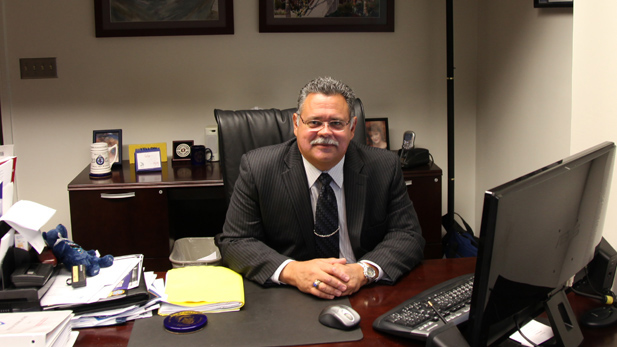 Tucson Police Chief Roberto Villaseñor at TPD's headquaters, 270 S. Stone Ave. (PHOTO: Fernanda Echavarri)
Since the investigation began, Villaseñor says he has looked across the country at different missing children cases and looked into how some of the more well-known cases were handled.
"I'm very proud that so many considerations were taken into play right from the beginning with shutting down landfill routes, getting the FBI involved, bringing in the dogs," he said. "All the things that you would want from a thorough investigation were conducted by the Tucson Police Department in partnership with other agencies."
Villaseñor says he wants Isabel Celis' face to remain out there as detectives continue working the case.
"It's not a successful investigation until we find her or we find out what happened to her, but I would consider this a well-run investigation so far," he said.
In the first few weeks, TPD received hundreds of tips on the case. But as time has passed, those tips have diminished, Villaseñor says.
There is now a $60,500 reward on this case through 88-CRIME, $59,500 of which come from private donations.