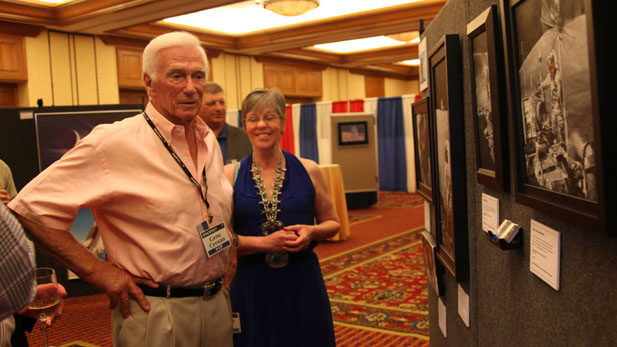 Apollo Astronaut Gene Cernan was the last man to walk on the moon. Here, he looks at lunar artwork with the artist, Pamela Lee in Tucson May 31, 2012. (PHOTO: Andrea Kelly)
Former NASA astronauts say the space industry needs a lofty goal in order to achieve new, great things.
Apollo 17 astronaut Gene Cernan and space shuttle astronaut Mike Mullane were glad to see the success of the SpaceX Dragon capsule in launching, traveling to the International Space Station, and returning to Earth last week. But in order for the space industry to capture American interest and advance international science and technology, there has to be a goal, they say.
The two were among nearly two dozen astronauts at Spacefest IV in Tucson. The group represented several generations of the space program, from people who walked on the moon or went on preparatory missions before that, to those who flew more recently on space shuttle missions.
They were in Tucson for the Spacefest event after the first commercial flight to the International Space Station successfully returned. Developed by SpaceX along with NASA, the Dragon craft was designed to carry crew, but took only cargo on its first flight.
It marks a change in the American space industry: NASA partnering with the private sector.
"Forty, 50 years ago, the headlines of the newspaper said 'Americans land on the moon.' Here we are half a century later, headlines in the newspapers say, 'we delivered clean laundry to the space station'" said Cernan, the last man to walk on the moon in 1972.
Mullane, a three-time shuttle astronaut on Discovery and Atlantis, retired in 1990. His thinking has evolved on the topic of commercial space flight, he says.
"Initially I was a critic of it, but given how efficient they've been, like SpaceX has been, at developing that rocket and the capsule and the success they've had, I'm warming up to the idea," he says.
The two express similar concerns about what's next for the American space program.
"The thing that I don't like is there's no next great plan. I mean what we're developing right now is technology that was developing in the '60s. We're putting a capsule in space that can parachute back into the water," Mullane says.
The industry needs a specific goal, like the goal President John F. Kennedy set when he challenged NASA to put a man on the moon, Cernan says.
"I don't think we have any direction in the space program today, that's why I call it a mission to nowhere. We're building hardware and putting people in rooms and supposedly creating technology to do what? And go where?" he asks.
Still, he says that's not a step backward because the industry remains a place to challenge scientific and technological advances.
"It inspires young people to dream and to do things that they didn't think they were capable of doing, and it doesn't make any difference who's doing it," Cernan says.
Mullane has his own story of being inspired by the unknown of space, and the prospect of being one of a select group of people who've been there.
"I'm a classic example of that. As a child, I was a child of the space race, I was 12 years old when Sputnik was launched, and then NASA comes along and starts launching those rockets," Mullan says. "I wanted to be an engineer, I wanted to be an astronaut someday."
But since the Apollo moon missions, and the development of a reusable space shuttle that helped build the Hubble Telescope and the International Space Station, Cernan wonders what's next.
"I was the last man to walk on the moon 40 years ago," he says. "We don't even have the capability to put an American on an American piece of hardware to get into low Earth orbit today."
In his opinion, it's not about money. By Cernan's calculation, people pay about one half of one percent of their taxes to the space program. He thinks, given a choice, maybe in a special box on their tax return, people would opt to give more money to NASA.
Both say they would support programs to send people back to the moon. NASA and all its past successes are something to be proud of, Mullane says, even as he wonders about the space program's future.
"It is the definition of American exceptionalism and now it's fading, it's a dimming jewel," Mullane says."We don't have it out there now to inspire the next generation."
AZPM also explored the possibilities of post-shuttle era spaceflight in the web feature "The Beginning of the End?" Read it here.