(VIDEO: AZPM)
Trade growth between Arizona and Sonora should accelerate when new infrastructure goes into place, says a research economist who studies trans-border business.
Lora Mwaniki-Lyman, director of the Border Economy Program at the University of Arizona, says an expanded truck port of entry at Nogales, expected to be completed in 2014, and a deep-water port in Guaymas on the Sea of Cortez, planned for the next decade, will mean a better future for import and export business in Arizona.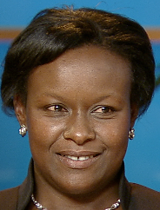 UA research economist Lora Mwaniki-Lyman. (PHOTO: AZPM)
Mwaniki-Lyman's assessment comes as the Arizona-Mexico Commission holds its semi-annual meetings this week in Tucson. Officials from Arizona and Sonora are gathered to discuss common business, transportation and environmental issues.
"Arizona and Sonora have a great relationship between themselves that goes back in history," she says. "We see a lot of exports from Arizona going to Mexico, mostly Sonora's manufacturing facilities, known as 'maquila' production facilities."
The "maquilas" are in free-trade zones in Mexico that allow raw materials or partly finished products to be imported from the United States for final assembly in plants employing Mexican workers. Businesses benefit by savings on taxes and labor.
Arizona businesses export a host of items under the system, Mwaniki-Lyman says, including computers and computer parts, machinery and transportation equipment, plastic products and copper products.
"We're seeing a lot of growth within small businesses that are interested in supplying the maquila facilities in Mexico and Sonora," she says, spurred by state and federal programs, including President Obama's 2-year-old National Export Initiative, which has a goal of doubling U.S. exports by 2014.
The building of a deep-water port in Guaymas and the possibility of a rail link between there and Arizona will give state businesses a better outlet for manufactured goods bound for destinations beyond Mexico, including China, she says.
"We have to be really careful, though, because we don't want to just become experts in passing through trade flow," Mwaniki-Lyman cautions. "We want to capture some of that growth within our economy that grows jobs in our key sectors."
She says the National Association of Manufacturers reported that in 2010 there were 110,000 jobs in Arizona related to exports to Mexico, including 85,000 in high technology. Arizona's trade with Mexico -- goods and services going in both directions -- had an estimated value of $10.7 billion in 2010.
The Border Economy Program is part of the UA's Economic and Business Research Center in the Eller College of Management.