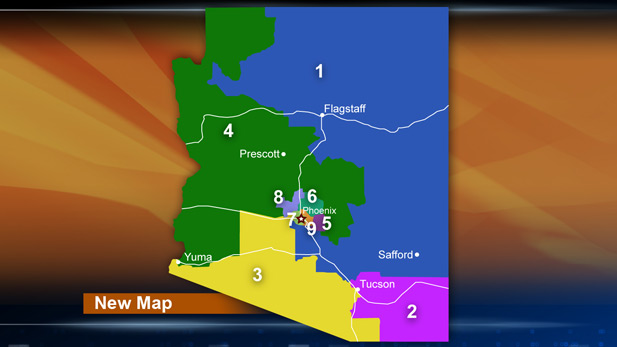 Arizona congressional districts, approved in 2012.
Republican leaders in Arizona's House of Representatives and Senate are suing the state's Redistricting Commission, saying the commission shouldn't be allowed to draw boundaries for congressional races.
The suit, filed Thursday, asks a federal judge to allow the Legislature to draw the new congressional district lines in Arizona.
State lawmakers drew all of the legislative and congressional district lines until voters approved a new method more than a decade ago, putting the responsibility for redistricting in the hands of an independent commission.
In the lawsuit, the top Republicans in the Arizona House and Senate say the Redistricting Commission is in violation of the U.S. Constitution because it removes part of the Legislature's authority to conduct congressional elections.
The lawsuit is solely about the congressional boundaries and does not challenge the redistricting commission's ability to draw new legislative boundaries.
Speaker of the House Andy Tobin and Senate President Steve Pierce say they want to draw their own congressional maps for use after this fall's election. They say they will allow the Redistricting Commission's lines for the 2012 election cycle, which is already under way.
In a joint statement, the two say they are trying to put the state in compliance with the U.S. Constitution.
Arizona is one of six states that use a commission to redraw the election lines, instead of allowing the Legislature to make the maps.
Read the Legislature's lawsuit against the Independent Redistricting Commission's Congressional maps
View at Google Docs | Download File