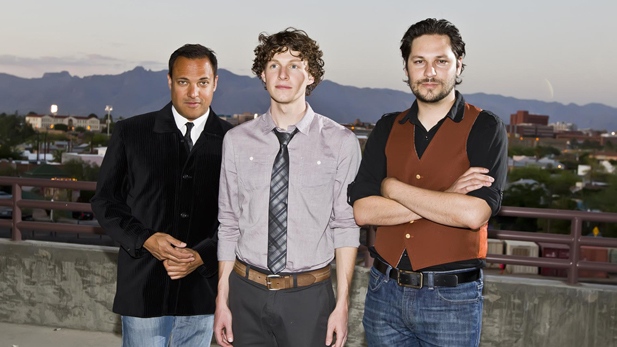 Roll Acosta is (L to R) Andre Gressieux, Kevin Frederick, and Jacob Acosta
One of the newer additions to Tucson's diverse music scene is the acoustic trio Roll Acosta, made up of by guitarist and singer Jacob Acosta, drummer Andre Gressieux, and violinist Kevin Frederick.
The band recently returned from San Francisco, where they recorded their new full-length album This Dreamt Existence under the guidance of indie rock musician and producer John Vanderslice at his studio, Tiny Telephone.
The recording process turned out to be a learning experience for the band, and Mark McLemore asked Jacob Acosta and Andre Gressieux to join him in the studio to talk about how it has influenced Roll Acosta's approach to their music...
Listen:
Roll Acosta is celebrating the release of This Dreamt Existence with a performance and party at the Tucson venue Plush on Saturday, June 9th, 2012. A second CD release event will happen on June 22nd, 2012 at The Yucca Tap Room in Tempe, Arizona.