Pima County Library's new director has been on the job for only five weeks and she has some technology upgrades she'd like to implement in the system.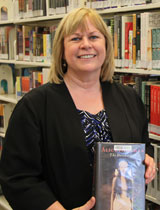 PHOTO: Robert Rappaport
Library Director Melinda Cervantes oversees the Pima County Public Library.
The upgrades involve "strengthening our network so we have the amount of bandwidth our public demands," says Melinda Cervantes, who comes to Southern Arizona from the Santa Clara County Library District in California.
Many people come to the library with multiple Internet-connected devices, and the wireless system and fiber connection need to be able to handle that even in the most remote areas, she says.
Cervantes is also taking part in a nationwide multi-library effort to convince publishers to make electronic books more easily available and streamline the checkout process, which currently requires a third-party vendor.