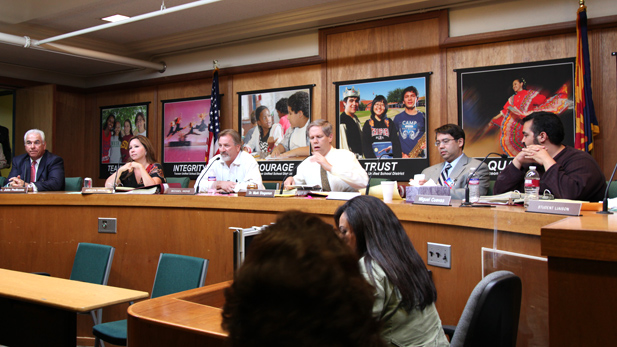 PHOTO: Fernanda Echavarri
TUSD's superintendent John Pedicone, with board members Adelita Grijalva, Michael Hicks, Mark Stegeman, Alexandre Sugiyama and Miguel Cuevas
In a vote of 4 to 1, the Tucson Unified School District governing board appointed Miguel Cuevas as president Tuesday night. Board member Adelita Grijalva dissented.
Cuevas is serving as president for the second time in less than a year. He led the board for four months until January, when the board voted to replace Cuevas with Mark Stegeman. Last month, Stegeman announced he would step down as president to focus on budget and education issues instead of running public meetings that at times became contentious.
"The board elected me in order to help guide the district on some of the tough decisions we will encounter over the next six months," Cuevas said.
Most of the contention at meetings stems from the shutdown of the district's Mexican American Studies classes, and Cuevas said the issue is likely to continue.
"The governing board has set a path in order to reintroduce some form of the classes, and at this moment I believe that we're going to continue to honor that commitment," Cuevas said.
Cuevas and Stegeman plan to run for reelection this fall.