In 2010, there were 53 earthquakes recorded in Arizona. In 2011, there were 131.
Geologists say there's a simple explanation for the increase: a statewide network of sensors are sending back the most accurate seismological data in the state's history. The 8-sensor network is designed to detect even the smallest of earthquakes, the ones that we can't even feel.
Seismic maps of Arizona show a number of areas that are particularly prone to earthquakes. They include the far southwest corner of the state, the Arizona Strip northwest of the Grand Canyon, and areas along the Mogollon Rim. Few of the quakes detected in these areas measured a magnitude higher than 3.5.
But the state has experienced much larger quakes, including a 7.0+ that struck just south of the U.S./Mexico border in 1887. It caused widespread damage as far north as Phoenix. Geologists say parts of southern Arizona, while relatively quiet seismically, could actually produce some of the largest quakes.
Reporter Mark Duggan interviewed Lee Allison, state geologist and director of the Arizona Geological Survey, about when and where the ground beneath Arizona is shaking.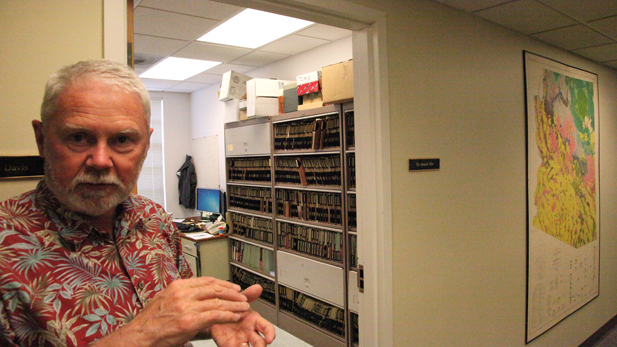 State Geologist Lee Allison at the former Arizona Geological Survey office.

Mark Duggan
Additional resources:
Arizona Geology Online Magazine
Arizona's seismic sensors
The U.S. Array National Seismic Observatory
University of South Carolina's Rapid Earthquake Viewer

Listen to the complete interview with State Geologist Lee Allison: