The official rain gauge at Tucson International Airport registered 0.29 of an inch of precipitation Saturday. Other gauges across the city recorded everything from 0.50 of an inch to a trace. Coming on only the second day of the monsoon, it's also one of the earliest summer rains on record.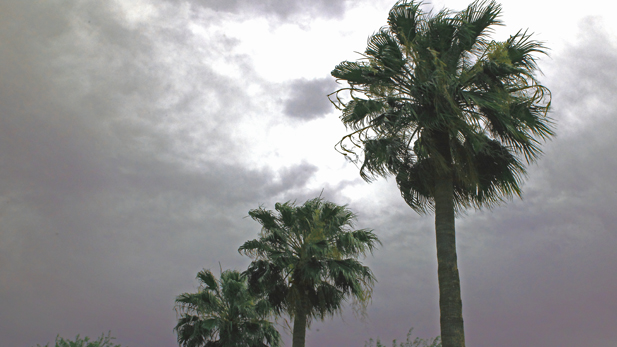 PHOTO: Mark Duggan
Saturday's rain marked one of the earliest times on record that rain has fallen in the "official" monsoon.
Data from the National Weather Service shows Saturday's rain means Tucson received more precipitation this June than in this month since 2001.
June is considered the driest of the monsoon months, partly because official monsoon rain measurements begin on June 15, and because the rains usually do not arrive until late June or early July. Last year, for example, 0.11 of an inch of rain was recorded in June.
Forecasters use a seasonal system to define the monsoon, much like hurricanes. Monsoon season in Arizona runs from June 15 to Sept. 30, and accounts for more than half of Tucson's annual rainfall.
The season is often heralded by increased dew points, humidity and impressive cloud buildups, which may tease residents for several weeks before actually producing rain.
J.J. Brost, science and operations officer for the weather service's Tucson bureau, says forecasters used to declare the monsoon underway when Phoenix experienced three consecutive days of dew points above 54. But that was confusing to Southern Arizonan residents, who often saw rain weeks before the dew points elevated in Phoenix. So several years ago, Brost says, they went to a seasonal date range system.
He says the monsoon is caused by several weather factors working together. First, an area of high pressure develops over the Four Corners region. That shifts Arizona's prevailing winds from southwest to southeast. The winds then carry moisture up from Mexico's Sierra Madre and the Gulf of California into Arizona.