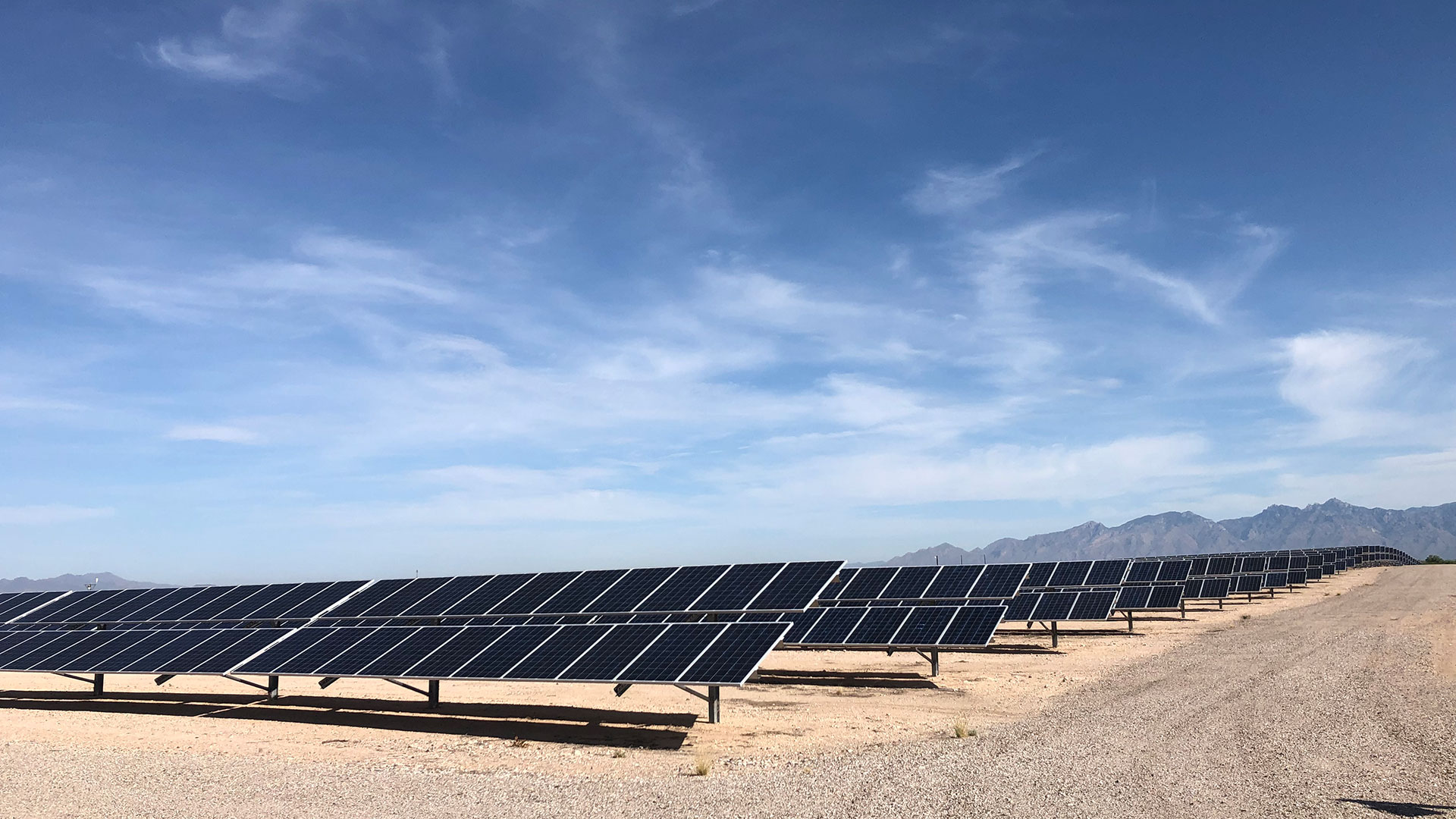 A solar array used by Tucson Electric Power to add renewable energy to the grid, August 2019
Christopher Conover/AZPM
Electricity is something many people take granted.
Flip a switch and the light comes on.
But for some living in rural Arizona and in tribal communities, that is not the case.
This week, The Buzz focuses on electricity — how it's created and where it's needed.
U.S. Secretary of Energy Jennifer Granholm recently visited the Navajo Nation to highlight funding for bringing electricity to more homes as part of the Infrastructure Investment and Jobs Act.
"Arizona has massive resources," she said. "You have the potential — solar potential to be the second-most contributor to solar power on the electric grid, which lowers costs for people. And so it's a moment to make sure rural America, rural communities have a big part in that."
Granhold said the department aims to promote more renewable energy both as a means of serving underserved parts of the country and also reducing carbon emissions.
"There's a real opportunity for economic development as well as to heal the planet," she said.
Dr. Leah Glaser, a professor at Central Connecticut State University and author of Electrifying the Rural West: Stories of Power, People and Places, said the energy resources in much of Arizona have long been steered to other parts of the country.
"There's tremendous energy sources of all kinds — there's the coal, there's the uranium, there's even solar power and wind power that gets generated on tribal lands throughout the country. But they're for the cities," she said.
Arizona Corporation Commission Chair Lea Márquez Peterson said that as the state grows, it must tap into its energy resources to keep up with demand for reliable power.
According to the Solar Energy Industries Association, at the end of 2021, nine percent of Arizona's electricity came from solar energy, making the state fifth in the nation.
And according to the Tracking the Sun study from the Lawrence Berkeley National Laboratory, Arizona only ranked behind California in the number of residential and non-residential solar installations in 2021.
"Arizona is one of the fastest growing states in the nation and we hear announcement after announcement — particularly in the Phoenix area — of new companies coming in. We've need to make sure we've got the proper resource adequacy for all that growth," she said.

The Buzz
airs Fridays at 8:30 a.m. and 6 p.m. and Saturdays at 3:30 p.m. on NPR 89.1. You can subscribe to our podcast on
iTunes
and NPR One. See more from
The Buzz
.