Tucson has become a haven for thousands of refugees from all over the world.
Tucson World RefugeeFEST co-chair Megan Fabry, who also serves as the volunteer coordinator for the Somali Bantu Association of Tucson, Arizona, says the reasons for that are complicated.
But regardless of where they come from, or why they left their home countries, these new arrivals to the United States find themselves assuming the role of "instant ambassadors". Each annual RefugeeFEST gives them an opportunity to share the best of their native culture with the community-at-large.
"We are speaking in the international languages of food, music, family, and fun," says Fabry, describing the all-day event that will occur from 9 a.m. to 9 p.m. on Saturday, June 23rd at the Maracana Indoor Sports Arena, 555 E. 18th St.
The date was chosen to coincide with Wednesday's World Refugee Day, a United Nations-sponsored day designated to recognize both the plight and the positive contribution that is made every day by international refugees who are forced to find new homes.
While the soccer tournament will be the RefugeeFEST's main event, there will also be a citizenship ceremony which will officially welcome some of America's newest citizens, along with lots of international food, crafts and music.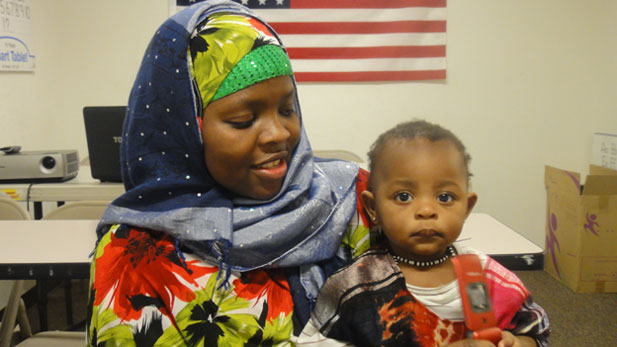 PHOTO: AZPM
A mother and daughter from a refugee family represent the growing number of displaced people who are now living in Arizona. The 4th annual Tucson World RefugeeFEST is taking place Saturday, June 23rd, 2012.