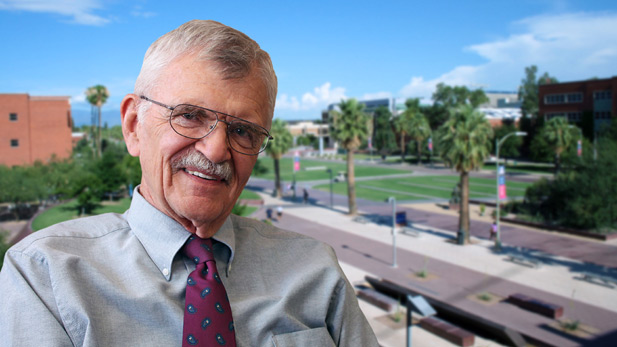 PHOTO: Photo courtesy of UA
Eugene Sander, president of the University of Arizona
University of Arizona President Eugene Sander is two weeks away from retirement after decades in higher education, and looking back at his time leading the university, his fondest memories are those that have to do with students.
"It's sort of a renewal of a university when a new crop of students is coming in and the cycle is beginning," Sander says. "Coupled with that, another great time is when you have graduation because you have at the end of four or five years these young men and women who are educated and are getting ready to go out and the work that we hopefully prepared them to do, and I think those are the things that you sit there and say 'this is what it's really all about.'"

Last year, Sander was the dean of the College of Agriculture and 10 days from retirement when the Arizona Board of Regents asked him to take over the presidency after Robert Shelton resigned.
Sander says he knew his time as president would be short and his main goal was to get the university ready for a new leader.
Starting in July, Ann Weaver Hart, president of Temple University in Philadelphia, will become the first woman to ever lead the UA, and Sander says she has "all the characteristics of a great academic leader."
Sander started at the UA in 1987 and says the changes he has seen are phenomenal.
"We work on the shoulders of others, and every new president that comes along makes things a little bit better and a little bit more sophisticated," Sander said.
Sander is happy to retire and travel between Tucson and Texas, while continuing to enjoy UA's football games next season, he said.