Officials with the Navajo Nation say Frank Willeto died Saturday at his home in western New Mexico. He was 87.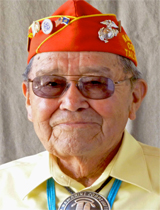 PHOTO: Navajo Nation
Navajo Code Talker Frank Chee Willeto died at his home Saturday.
Monday, Navajo Nation President Ben Shelley ordered the Navajo Nation flag to be flown at half-staff in honor of Willeto. He also released a statement:
"(Willeto) served his country and returned home and served his people in many ways. His life is an example of how to help people continuously until his last days..."
Frank Chee Willeto was born in Crownpoint, N.M. and enlisted with the U.S. Marines 6th Division in 1944. He completed Code Talker training and served in the Pacific Theater in Saipan and Okinawa.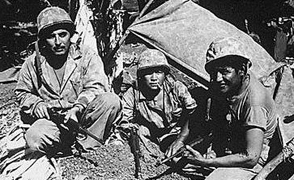 Navajo Code Talkers at Saipan, June 1944.
After World War II, Willeto returned to the reservation and began a long career of public service. He worked with the U.S. Bureau of Indian Affairs roads department until 1974. After that, he served as a tribal councilman, president of his local tribal chapter and Navajo Nation Supreme Court justice.
He was also vice president of the Navajo Nation under president Milton Bluehouse.
The Navajo Code Talkers were a group of young Navajo men who created a transmission code in World War II based on their native language. The code was never broken by the Japanese.