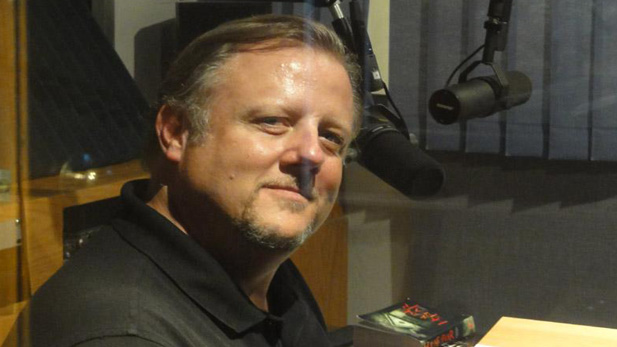 Author Weston Ochse, safely confined behind glass in an isolation ward located deep inside the AZPM radio studios (PHOTO: Yvonne Navarro)
They say that you can never tell if someone is a actually a horror writer....until it's too late!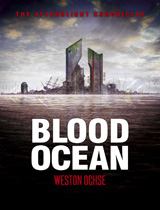 "Blood Ocean", published in 2012 by Abaddon
Some fans and creators of horror and dark fiction might describe their genre as a therapeutic one, a stress-reliever which allows them to better cope with their real-world anxieties.
But, others might confess a second truth -- that horror can be a rush.
The dark fiction of author Weston Ochse travels in both of those territories. He was recognized for his talent as the winner of the Horror Writer's Association's Bram Stoker Award for a book called Scarecrow Gods, first published in 2005.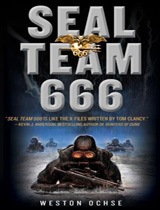 Weston's next book is "Seal Team 666", to be published in November, 2012 by Thomas Dunne Books
This upcoming November, 2012 brings with it two new milestones in Weston's life. First, he will continue his 27-year military career with another tour of duty in Afghanistan. Second, he will see the publication of his next novel, Seal Team 666, which follows the adventures of a special operations force designed to deal with supernatural threats.
Although Weston lives physically in Sierra Vista, Arizona - with his equally prolific writer wife Yvonne Navarro and a squad of rescued Great Danes - you get the idea that his spirit resides someplace else, someplace a little farther away and a little darker than the Sonoran Desert.
Mark McLemore had a chance to talk with Weston Ochse on the publication of his first short story collection, Multiplex Fandango, when he asked Weston to think back to his earliest recollections of writing from his imagination...
Listen:
Zombie fans can celebrate all things apocalyptic at Weston's next Arizona public appearance, The Metropocalypse, also featuring authors Joe McKinney and Joe Nassise. It happens Saturday, July 14th at 10 am at the Barnes & Noble, 10235 N. Metro Parkway in East Phoenix. More information is available from 602-678-0088.